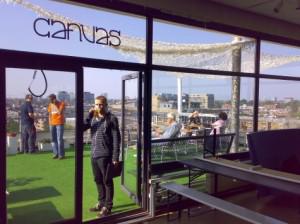 What's a better way to spend a lazy Sunday than chillin' on a rooftop terrace, sipping cocktails and listening to live music?
Live in Your Living Room and MokumGroupie.com are making that perfect day a possibility on 15 May by hosting one laid back groovy afternoon at Amsterdam's hip and happening cafe gem, Canvas.
Overlooking the city at the cafe's 7th floor bar, NYC singer/songwriter Rachael Sage will be taking a detour from her European tour to play live. Opening the show will be American-born Amsterdammer, Barn Boy, aka Hyland Mather. Owner of Andeken Gallery, Mather is an art guru in the city and one excellent strummer!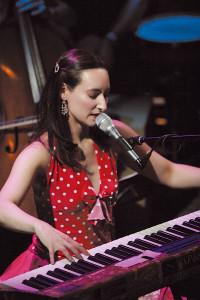 The evening kicks off around 16.00, when visitors are welcome to enjoy the early evening sun and a complimentary cocktail. Drink specials run all day and the relaxed atmosphere is made even cosier with big couches and a living room feel, which is exactly what Live in Your Living Room is all about.
The Amsterdam organisation takes local and up-and-coming talent off the stage and brings it to you quite literally, live in your living room. With regular concerts hosted in houses across the city, each show is an intimate musical experience – and a chance to get a view inside a real Dutchman's home!
Their partnership with MokumGroupie.com, Amsterdam's only English music website, means each Live in Your Living Room concert is booked with the best music minds in the capital.
Bring your friends and meet new ones this Sunday at Canvas. There's nowhere else in town where you can enjoy incredible views of Amsterdam and some of the best in new music.