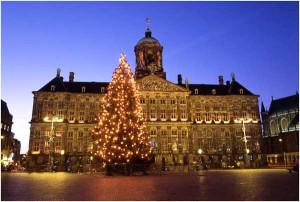 Come December, Amsterdam lights up with holiday cheer – literally. A walk down the city's main drag showers visitors in a spectacular display of twinkling lights and decorations.
And the festive spirit gets a boost of grandeur with the official lighting ceremony at the Bijenkorf boutique. On 24 November, the Netherlands' most famous department store will glow with holiday cheer – and over 100,000 lights.
The ceremony kicks-off at 19.00 with a dazzling theatrical light show. The 45-minute display is set to wow the crowd in Dam Square before the Amsterdam Mayor Eberhard van der Laan is joined by Dutch actress Vivienne van den Assem to flip the Bijenkorf's switch.
Afterwards, everyone is invited inside the department store for a festive glass of sparkling wine and a sneak peak at the shop's exclusive holiday sales. With the very best in designer apparel, accessories and luxury home goods, every shopper can get a leg up on their Christmas list in style.
The Bijenkorf lighting ceremony is only a prelude to the official ringing in of the holiday spirit in Amsterdam. The highlight comes on 6 December with the lighting of the capital's Christmas tree. The tree is a symbol of the city's holiday cheer and, standing massively outside the Royal Palace, it is a festive greeting from Her Royal Highness Queen's Beatrix herself. Happy Holidays!