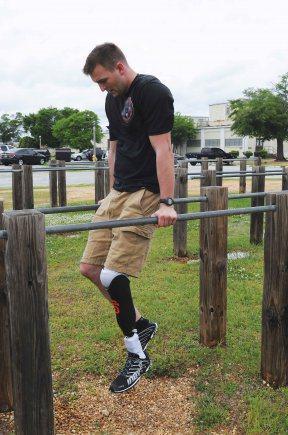 US Army: When 1st Lt. David Brunett lost his leg after an improvised explosive device explosion in Afghanistan three years ago it permanently changed his physical appearance, but never changed his mind about going to Ranger School.
As he prepares to begin the intense 61-day course, which begins Sunday, Brunett said his only goal is to give it his very best.
"Rangers are the best Soldiers in the Army, and I think every guy wants to test himself in that way," he said. "I'm glad to have the opportunity to do this and push myself past the limit."
In April 2011, Brunett deployed to Kandahar, Afghanistan, with 1st Battalion, 5th Infantry Regiment, from Fort Wainwright, Alaska. He was returning from a dismounted patrol when a roadside improvised explosive device exploded, severely injuring his left leg. After doctors told him his injuries would prevent him from living an active lifestyle, Brunett agreed to have his leg amputated, in July 2012. He was reassigned to the Warrior Transition Battalion at Fort Sam Houston, Texas, and received five months of rehabilitation at the Center for the Intrepid.
"I was blessed to survive the injury with none of my Soldiers injured in the blast, and go through my rehab with no complications," Brunett said. "I was lucky to have those five months to try to save my foot … I had time to think about the fact this is going to significantly change my life."
Brunett said he was fortunate to have family in his hometown of Troy, Montana, and Soldiers from 1st Battalion, 5th Infantry Regiment, offering encouragement to continue through his recovery.
"Having a support system was vital in me saying 'this isn't done,'" Brunett said. "The injury doesn't stop you from being the type of Soldier you want to be. It's dangerous to think of yourself as just an amputee or a wounded warrior instead of saying 'I am a Soldier.'"
Brunett worked as an operations officer for U.S. Army South in San Antonio before joining the Maneuver Captains Career Course, in September. Brunett said he was inspired by Sgt. 1st Class Joseph Kapacziewski, who continued to serve and deploy as a Ranger after losing his leg after a grenade explosion, in October 2005, in northern Iraq. After talking to several Ranger mentors, Brunett said he felt he could take on any challenge.
"I can imagine that it is physically demanding, but the biggest challenge would probably be mentally refusing to quit and not letting the Soldiers to my left and right down," Brunett said. "I'm blessed just to have the opportunity to go through a course. I've never wanted special treatment and every school in the Army is all about meeting standards."
Brunett said his doctors in Texas approved of his ambitions and provided him with alternate prosthetic legs in case of malfunctions under stress and continuous weight throughout the course. He will also wear a sweat liner and a hygiene suspension sleeve around his leg to withstand swampy conditions during the Florida phase of Ranger School.
"The doctors and medical professionals in Texas are excited to see someone who uses a prosthesis do this just to see how far it can be pushed," Brunett said. "It's a great opportunity to show others, even if I can make it through just one phase."
Brunett said he hopes to leave Ranger School with a tab, and take a command during his next assignment at Fort Drum, New York.
"If I can make it through Ranger School, I will give all glory to God for how far I made it," Brunett said. "For those who may have just been injured and going through recovery, I want to be an inspiration and let them know that if I can do it, so can they. There's never an excuse to quit. If you want something, you have to go get it."
Hooah!
DCG