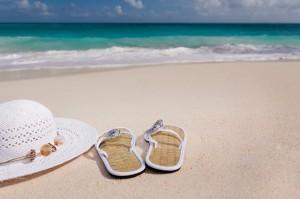 This spring, let your beach goddess show with fashion that makes heads turn. All you need is a little inspiration to exhibit your unique style and look ultra-chic at your swim getaway.  Swimsuits Direct is here to give you that style idea, so check out our fashion principles for this spring season and have fun molding your own spring look.
Nothing says spring like a cute poncho that gives you an effortlessly elegant look at the beach or pool. ThisLucky Brand Lace It Up Poncho does just that for you, with its unique crochet detail and subtly sexy look that culminates in shoulder cut outs and a laced v-shaped neck style. This poncho will let you showcase your stylish bikini without revealing too much or putting up much fuss. With its loose shape and breathy material, you're sure to have fun exploring other beach or poolside attractions or simply enjoy playing some sports.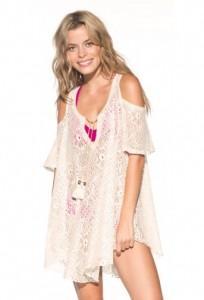 Of course, no swim look is ever complete without flip flops that are as comfortable as they are fashionable. Grab a pair of thisHavaianas Slim Sandal and get absolute quality with its comfy feel. Choose the color that best speaks to your fashion personality, from candy colors such as yellow, pink and mint green to cool and bold hues, you'll have tons of options to choose from.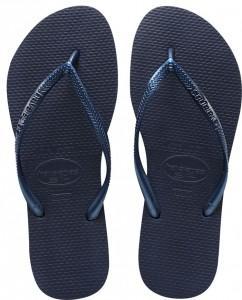 Finally, the most crucial aspect of your beach or pool look is your swimsuit. With so many styles to choose from, you are sure to have fun looking for the perfect one for you. Check out thisSeafolly Block Party Slide Triangle, which has the right amount of zest and vibrant aura to get you through your relaxing swim day. Get into the spring feel with a pop of color and make your season's vacation extra memorable with this color block ensemble that balances elegance with just the right amount of flirty look.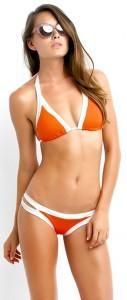 To make your fashionable look last throughout the day, load up on your SPFs and make sure to drink lots of water and eat just right to keep yourself hydrated and to keep the hunger away. To protect yourself further, bring along a stylish wide-brim hat and snap on your fave sunglasses to keep the sun's glare away. You wouldn't want to miss out on all the fun by getting your energy levels low when everyone's just gearing up for more activities.
Make sure you have your swim essentials with you in a convenient beach bag, including your towel, hair and skin products, and of course your set of fresh clothes for changing. A day at the beach or pool is fun, but you wouldn't want to bring the smells or impurities with you when you head home.
Swimsuits Direct is dedicated to letting you bring out your inner fashion diva with unforgettable styles that will let you look your absolute best. Check us out for more style options and get the look that best speaks to your fashions sense.
Got more ideas? Create your own spring swim wardrobe here at Swimsuits Direct, where tons of swimwear options await you, including accessories and other essentials.