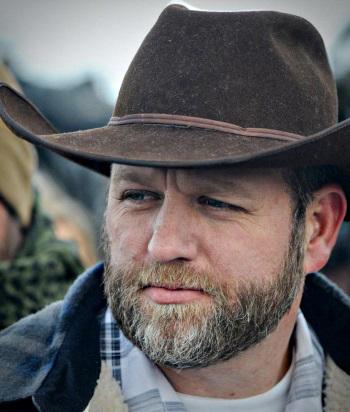 Ammon Bundy
[courtesy Google Images]
armed
He is the son of rancher Cliven Bundy, who was the central figure of the 2014 Bundy standoff regarding unpaid grazing fees on federally-owned public land.
Ammon Bundy, his brother Ryan, and five other defendants were charged by the federal government for conspiracy and weapons violations in the "occupation".
According to the October 27th New York Times,
.
"PORTLAND, Ore. — Armed antigovernment protesters led by Ammon and Ryan Bundy, charged in the takeover of a federally owned Oregon wildlife sanctuary in January, were acquitted Thursday of federal conspiracy and weapons charges.
"The surprise verdict in Federal District Court was a blow to the government, which had argued that the group used force and threats of violence to occupy the reserve, impeding the federal workers there. But the jury appeared swayed by the occupiers' contention that they were protesting government overreach and posed no threat.
"In a sign of the high tensions throughout the trial, Ammon Bundy's lawyer, Marcus R. Mumford, was restrained by four United States Marshals in courtroom tussle after the verdict on Thursday. He was enraged that the Bundys were not being immediately released."
.
Defense attorney Marcus Mumford was not merely "restrained," he was tased.  Judging from his video interview (below) he was not enraged.  He was merely asking by what authority the U.S. Marshals might continue to detain the defendants after they'd been found Not Guilty.  He was reportedly surrounded by U.S. Marshals, threatened with charges of "resisting arrest," knocked to the floor and then tased.  In court.
What a circus.  What a story.  What a movie (I'm thinking Brad Pitt with a beard).
The first video (below) is of defense attorney Morgan Philpot's comments after the jury found both Bundy brothers and their five co-defendants Not Guilty.  The jury's Not Guilty verdict was more than the defendants had dared to hope for.  If even the left is critical of government, government's in deep trouble.
That Not Guilty verdict for "Armed antigovernment protesters" has got to be a huge blow to government morale.  This should be especially true since the verdict was reached in Portland, Oregon, a seriously left-leaning community.
I view the verdict as evidence of the same anti-government sentiment that animates populism around the world and the Trump candidacy in the USA.  Perhaps the American people have finally had just about enough of big government.
Will government roll over" and concede to the growing powers of populism?  Or will government attempt to become even more aggressive?
Well shall see.
But, for now, every American patriot, dissident and anti-government activist can take heart and celebrate a victory so astonishing, so enormous, that it's hard to imagine how it could've happened without the Good LORD's help.  Today, while one shameless, criminal bitch is running for the presidency in Washington DC, six heroic men and one heroic woman were found Not Guilty in Portland, Oregon.
This country's not finished yet.
video    00:02:31
Here's attorney Marcus Mumford's description of how he was tased–in court–by U.S. Marshals:
video  00:01:55
This is the first case I can recall when I felt proud of some attorneys.  These are not "greed is good" lawyers.  They appear to be "good is good" attorneys.
As I said, this is going to be a movie.  Big time.  Cowboy hats.  Horses.  Guns.  Tyrannical government thugs.  Ordinary men and women as heroes.  Even lawyers doing good.  How can it miss?  Movie audiences will CHEER when the jury says "Not Guilty".  They'll clap their hands.  They'll stand up from their seats.  They'll stomp their feet.  And when the jury says "Not Guilty," the movie audience will CHEER.  And, in doing so, they will throw another big scare into the establishment and big government.