New to little Indiana? Subscribe for free to my RSS feed. Thanks for stopping by!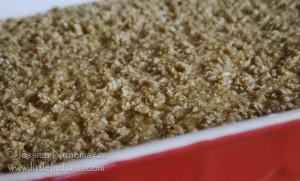 Amish Recipes: Baked Oatmeal
Looking for a great Amish recipe? Amish Baked Oatmeal is Kid #1′s most favorite breakfast food. If he got his way, we would eat this every single day.
Amish Recipe: Baked Oatmeal
I love it because it's versatile–and because it smells like cookies while it's baking! Think of it as your base to play with! Throw on fresh or dried fruit for a change of pace.
Nothing tastes better on a chilly morning, Summer or Winter! You know my Wheat Germ obsession–throw in 1/2 cup of that, too, if you want.
Amish Baked Oatmeal Ingredients
3 Cups Oats
1 Cup Brown Sugar
1/2 Cup Butter or Margarine, Melted
1 Cup Milk
2 Eggs
2 teaspoon Baking Powder
3-4 teaspoons Vanilla Extract
Dash of Cinnamon (Optional)
Fruit to Top (Optional)
How To Make Amish Baked Oatmeal
This is so easy to whip up. Ready? Preheat oven to 350*.
Melt butter.
Meanwhile, combine oats and brown sugar. Add in Milk, Eggs, and melted Butter. Mix well.
Add in Vanilla, Baking Power, and Cinnamon (if using).
Pour into greased 13 x 9 dish and bake 25-30 minutes. You know it's done when edges are lightly browned, pull away from side, and it doesn't look so wet.
This can be assembled the night before and baked the following morning to make breakfast super easy! I know, it's nothing special to look at but–it's so good!
See more photos of this Amish Recipe: Baked Oatmeal and other pictures in Indiana on my Flickr photostream.
little Indiana: Where to Stay, Play, and Eat in Small Towns in Indiana. Discovering Indiana's best small towns! Now get little Indiana on your Kindle.
New! Offering affordable online advertising for your small Indiana business! little Indiana Businesses is the online presence that you've been looking for.