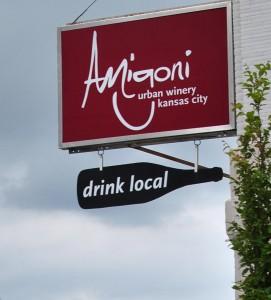 While in Kansas City I visited an urban winery called Amigoni.  I had never heard of it before but it is truly a local winery which is surprising for Kansas City, at least to me.  While the vineyard is 30 miles away from their store location, they are still growing their own grapes and making their own local wine. Local wineries are the way to go since you don't have to deal with high shipping costs (glass is very heavy).  They also sell to local stores but don't distribute widely.  It is great that so many cities have local wineries and breweries these days, but often they grow and start distributing to more spread out areas and become less "local".
The building where Amigoni has its tasting room is also very interesting.  It is an older building, about 100 years old, and was used to print an agriculture newspaper.  While they have done some changes inside, most of the building is the same.  They had to add in a floor since the old printing press took up a large portion of the back of the building and went from basement to ceiling.  You can still see where it was located when looking at the ceiling.  Amigoni is also located in the Stockyard District, an area that was pretty vacant  while I was growing up.  Downtown Kansas City has been really trying to improve it in recent years and get people moving back into the area, this winery is part of that broader area.
I didn't get to partake in the wine tasting myself (the other people I went with said it was good) but I still enjoyed the visit since it was a local winery and they were reusing a building for new means.  Also I have visited other local wineries, but they received their grapes or grape juice from other regions.  To me that is not a "local" winery and I am pretty sure that particular winery I visited is no longer in business.  I always like finding local treasures and I would say Amigoni is one of those for Kansas City.
Author's Own Image