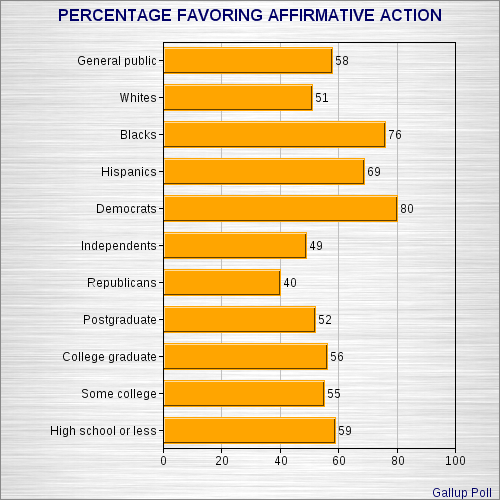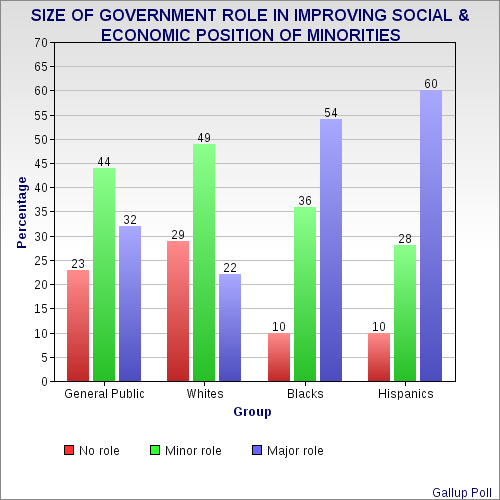 I must admit that I was pleasantly surprised by the results of this recent Gallup Poll (conducted between June 13th and July 5th of a random sample of 4,373 adults -- with a margin of error of 2 points). It seems that a clear majority of Americans (58%) supports affirmative action as a vehicle to correct the social and economic inequities suffered by minorities in this country.
And that support is pretty widespread -- cutting across both racial and educational lines. The only group with a significant majority opposing affirmative action is Republicans (53%). A plurality of Independents give their support (49% supporting and 45% opposing), while 80% of Democrats support the program.
The poll also showed that significant majorities of all major racial groups thought the government should have role in helping to erase these inequalities -- with 76% of the general public, 71% of Whites, 90% of Blacks, and 88% of Hispanics believing the government should play either a major or minor role.
NOTE -- There is one area where a majority of Americans don't want to see affirmative action used -- in college admissions. About 67% of the general public, 75% of Whites, 44% of Blacks, and 59% of Hispanics think college admissions should be determined by merit only, with no consideration given to the race of the applicant.