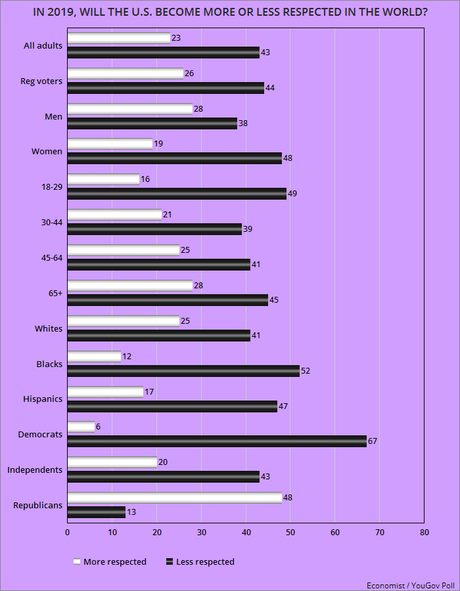 A couple of days ago, I provided you a poll that showed Americans believed the United States lost more respect in 2018 in the eyes of the world (even more than they lost in 2017). What about 2019? Will the United States, under the pathetic and incompetent leadership of Donald Trump, gain or lose more respect?
Sadly, the public's opinion is that the U.S. will not gain back any respect in 2019. A plurality of adults (43%) think the U.S. will lose more respect in 2019, and 37% believe we will just maintain the current very low level of respect. Only 23%, mainly Republicans, believe the U.S. will increase its respect in the eyes of other nations.
The chart above uses information from the newest Economist / YouGov Poll -- done between December 30th and January 1st of a national sample of 1,500 adults (including 1,283 registered voters). The margin of error for adults is 2.9 points, and for registered voters is 2.8 points.