TAKEAWAY: The end of the American Press Institute as we knew it is another one of those subtle reminders that all good things must come to an end. But, should they? My fondest memories of API are here to stay.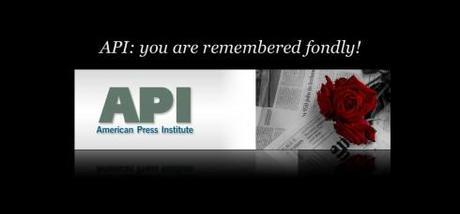 It is sad and hard to believe: the American Press Institute, the 66-year-old institution that was home to one of the most important training centers for journalists in the world, has now closed its doors.
The official news is that API will merge with the Newspaper Association of America Foundation.  Perhaps it is a merger, or marriage, made in training heaven, and only time will tell.
For me right now, the news of API's demise is just too sad, and it rushes back the memories of my 202 appearances there as Discussion Leader (DL). I will never forget the thrill of entering that huge, imposing, and—- for the first time DL—-, very scary, round table with place cards with the names of all the participants and their newspapers.  All 36 of these journalists, many of whom could be teaching the seminar themselves, were clinging to your every word.
Can anyone forget that
API

circular conference room

My first seminar at API was in 1978, and I was a young professor at Syracuse University.  Invited by then director, Mal Malette, I remember arriving two hours ahead of my presentation at the API building in Reston, Virginia.  Frank Quine, who was director for my seminar, and who became API Director later,  was there to greet me. He served me a cup of coffee and took me through the paces, much appreciated by a first time DL.  We proceeded to the "critique room" where we put all the tearsheets I had worked on carefully for weeks, on the wall.  This room was smaller, more intimate, with theater-like seats.  While the conference room was our opportunity to present our views, the critique room was where we got our hands dirty with newspaper ink, and, marker in hand, went to it:  this headline is too bold, or, what were you thinking when you put three photos touching each other, please….and, how many colors did you mix here, is this a Carmen Miranda page or what?

It was at the American Press Institute that I first used that term, I think, and I still hear people mention Carmen Miranda pages of the past and present.  I get some in the mail, too.

I also remember that what I remember the most, at the end of each API seminar in which I was a DL, was the satisfaction and the feeling that we had contributed to make our craft better.

We, as DLs, learned as much as the participants.  The conversations spilled from those conference and critique rooms and into the lunch rooms of the Sheraton Hotel.

I will never forget John Bodette and I preparing enthusiastically to show an API audience what we had accomplished with the St. Cloud Daily Times (And, of course, I should mention that I had previously critiqued the Daily Times at an API seminar which led to an invitation to redesign it, an unforgettable project to this day. Thank you, API, for that , too).
The start of an exciting consulting career

And I went out on my first international consulting assignment because I met Federico Massot, then editor of La Nueva Provincia, of Argentina, during an API seminar,  and, after I critiqued his newspaper, and just before the lunch break that day, he pulled me aside and asked me to come to Bahia Blanca as soon as possible.
I did, and it turned out to be a terrific experience , leading to a life long relationship with that newspaper and the Massot family that still publishes it.
So the news of the end of the API I knew, indeed, is sad news.
What will happen to training for journalists?
And the question: what will happen to training for storytellers at a time when we need it more than ever.  For API, during most of its history, newspapers and how to make them better was the main purpose to be; in later years,training extended to new platforms.
Today, with various platforms competing for attention, and with newspapers circulation declining, while the storytelling process must adapt to unique platforms and the lifestyles of new audiences, we need to have instruction on a variety of topics. Expertise and sharing of experiences, the foundation of what API did so very well, is of utmost importance.  It is the essence of survival.
Obviously, API is not alone in feeling the pinch; another institution that has meant a lot to me personally and professionally, The Poynter Institute for Media Studies,  I am sure goes through similar problems, with training dollars just not there, and newspapers guarding carefully the number of staffers they send away for further education.
What is the industry to do?
I know that a great deal of what I do as a consultant in newsrooms across the globe is to train.
I have seen the difference between people coming to API and Poynter or just staying home and bringing the trainers to the newsroom, which is cheaper economically, but not as effective pedagogically.
One of the greatest experiences for seminar participants who go away to learn, is the interaction with their peers.  So much learning takes place during coffee and lunch breaks, and happy hour, that I am almost certain it matches the formal instruction in the classroom.
This is not the time to eliminate training.  In fact, quite the opposite. We must be inventive to facilitate it in difficult economic times.
For Poynter, I have suggested the Poynter World Institute, taking the wonderful message, pedagogical methods and experience of the Institute to the world.  While the US and Western Europe are ready to tackle the next technological wave, there are many countries around the world where print is not just successful, but emerging and growing—-think China, India, all of Latin America.  Journalists in these countries need basic training in writing, editing, design, photography and management.  Poynter and API are institutions without rivals in their ability to put together the type of programs that are very needed in these places.  Maybe these are new frontiers of training, and revenue, to be explored.  Then take the instruction to them, abandoning the old models of the big building, the residence faculty and the people coming to them.  Instead, operate by taking the show on the road, using online courses, and even social media.
Indeed, journalists everywhere still need to be reminded of what makes a good story and how to write it.  Today, they must learn how to adapt it to four platforms, from mobile to online to print to tablet.  And how to design it and how to sell it across platforms.
I know that at least two generations of journalists and newspaper executives are mourning the closing of the American Press Institute. Some of us wonder what we could have done to save it.
API : you did well, and you will not be forgotten. In my view, you are making a grand exit , with your head up high, and, although I do not know what they will put into that iconic conference room in your building, the lessons about professional and ethical journalistic practices that were passed on there will resonate forever.
A bouquet of red roses and heartfelt gratitude to you.
Of related interest:
In TheMarioBlog, reference to my API experience:
http://garciamedia.com/blog/articles/front_pages_and_the_haitian_earthquake_more_on_tablets
RIP, American Press Institute
http://jimromenesko.com/2012/03/22/rip-american-press-institute/
First paragraph:
From W. LAWRENCE WINTER, American Press Institute President/Executive Director, 1987-2003: As one of Romenesko's readers reported today, one of America's longest-serving and most impactful journalism organizations is set to die tomorrow. Quietly. Without fanfare. Without the sendoff it has earned.
The media executives who oversee it have decided that the American Press Institute has outlived its usefulness. They've fired the entire staff. They're abandoning the Institute's historic Marcel Breuer building in Reston, Virginia. Under the guise of a "merger" with the Newspaper Association of America (NAA) Foundation, API is simply disappearing.

Steve Buttry: As the American Press Institute closes, another piece of my past fades away
http://stevebuttry.wordpress.com/2012/03/23/as-the-american-press-institute-closes-another-piece-of-my-past-fades-away/
TheMarioBlog post #979