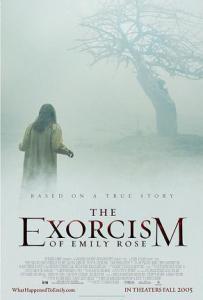 Exorcism seems an especially appropriate trope these days. Embedded evil has to be faced squarely and forced out before it kills its host. I recently rewatched The Exorcism of Emily Rose. This is a most unusual horror film in that the story is born by a courtroom drama over whether the priest overseeing the ritual was responsible for the death of Emily Rose. Famously based on a true story, the movie raises a more basic question than whether it "really happened"—what is the viewpoint through which we view the world? We see from the very beginning that the case is actually a contest between two powerful law firms. Each wants a lawyer that can shred the case of the other. The prosecutors engage Ethan Thomas, a very religious Methodist, against the defense's Erin Bruner, an agnostic. Believing Emily's case to be purely medical, Thomas asserts that had she stayed on her medication Emily would've remained alive with the prospects of a healthy life. Fearing a complete loss, Bruner takes a risky counter-approach: what is Emily really was possessed?
The obligatory scary scenes are shown, of course. They are flashbacks inserted into the course of the trial, but nevertheless disturbing for all their calm, rational framing. The real question, as the story plays out, is can a supernatural worldview be allowed in a court of law. Ironically, such a worldview is already present when a witness swears on the Bible. This particular movie doesn't show those scenes, but it would've been a fair point for Ms. Bruner to make. Clearly the court can't decide if demons are real, but it can allow that possibility. It's a classic case of science versus religion. Nevertheless, both sides make use of science. The anthropologist on the stand is dismissed by the religious Mr. Thomas. He has no time for Catholic, or any other religions', superstition.
Many strange choices were made for this particular cinematic piece, but the story works nevertheless. Those who believe in spiritual realities are allowed to live them out only to a point. The legal system decides if a religion has gone too far. I couldn't help but wonder if, in a post-truth world, any clear standard of rationality can possibly hold. But questioning universally accepted truths and subverting them to personal preferences its almost if we've actually reached the stage of "all those in favor of general relativity say 'aye.'" As I say, the film was more timely than anticipated. Demons, after all, often appear in the guise of an angel of light. Especially for those motivated by fear.