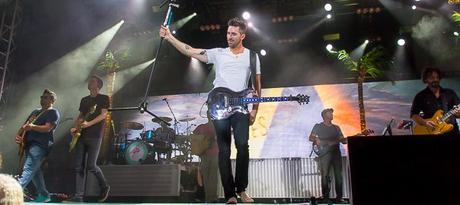 They call him the King of Summer... and on a steamy Thursday night north of Toronto, Jake Owen made that impossible to argue.
Jake Owen, in all of his barefoot glory, took over the Boots and Hearts Front Porch stage to headline the Coors Banquet Kick Off Party - and he damn near blew the roof off of the tent covering the front portion of the crowd.
More than 1400 miles from home, Barefoot Jake sometimes looked amazed at what he was seeing in front of him. The (our estimate) 25,000 country music fans cheering and clapping and dancing and singing their hearts out to every word of every song they knew. They played with beach balls and partied and they loved every minute of it. From American Love kicking off the set to Barefoot Blue Jean Night closing out the encore - there was no drop in energy at any time during Jake's performance, and that's pretty incredible.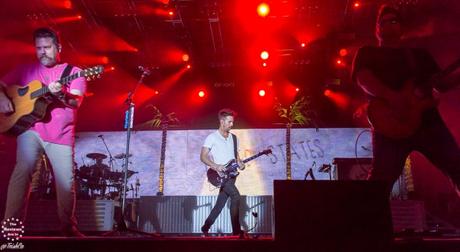 Note: During every lull or even break in the set the assembled mass of wild Canadians broke out into "Let's Go Blue Jays". It was loud and it was awesome, even if most of them didn't know that the Jays were beating the Astros 4-1 at the time.
The set behind Jake was adorned with lights and palm trees and even a little ode to his VW bus in the paint job on the keyboard stand. There was no doubting the summer vibe, and the music he played - The One That Got Away, Anywhere With You, Good Company, American Country Love Song, Yee Haw, Real Life, Eight Second Ride, Beachin'... all those songs put the crowd exactly where they wanted to be on a Thursday night.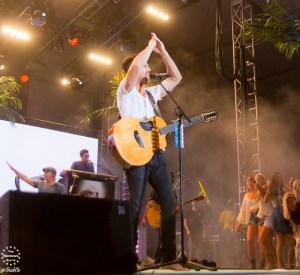 Jake also broke out a bunch of covers to share with the crowd - some long, some short, but all connecting and sharing influences from his past and peeks into his tastes as a fan himself. Country and pop were combined in a list that looks something like this... The Dance, Boot Scootin' Boogie, Chattahoochee, Ring Of Fire, Steal My Kisses, Hold On, We're Going Home, and Jump! The volume in the crowd for Jake's songs and the covers was unbelievable. These Boots and Hearts fans came out to sing on Thursday night - and the rest of the weekend's artists should hope they do the same as we continue.
It's impossible to tell you how many girls and guys got up on shoulders during Jake Owen's set. It's impossible to tell you how many people sang along to how many songs. It's impossible to tell you how many people danced. BUT I can tell you this, it's not impossible to tell you that Boots and Hearts loved Jake Owen, and while it may have taken five years to get him here, I'd bet that it won't take another five years to get him back.