Listen to the tone of this propaganda piece, put out by Yahoo News.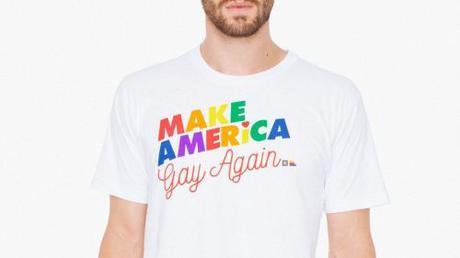 From Yahoo: They may not be the first brand to take a stab at trolling Donald Trump, but they're by far the largest. Making no bones of their political allegiances, retailer American Apparel has taken a direct swipe at the presumptive Republican nominee with a new line of apparel shrewdly titled, "Make America Gay Again." 
According to a press release, the six-piece, gender-neutral collection, which features two T-shirts, two tank tops, a tote and a hat, "[stands] for acceptance — no matter who you are, where you're from or who you love."
Unlike similarly themed pride collections, this limited-edition line is directly benefiting the LGTBQ community with 30 percent of the proceeds going toward the Equality Act and the fight to end LGBTQ discrimination.
The collection is a partnership between American Apparel, the Human Rights Campaign and the Ally Coalition. The Ally Coalition was co-founded by singer-songwriter Jack Antonoff (who is dating false-rape accuser Lena Dunham) along with his sister, Rachel. "Rachel and I founded the Ally Coalition to inspire fans to take action for LGBTQ Equality," Antonoff said in a press statement. "During a year where LGBTQ rights are being threatened all over the states, everyone is responsible for coming together and challenging these injustices."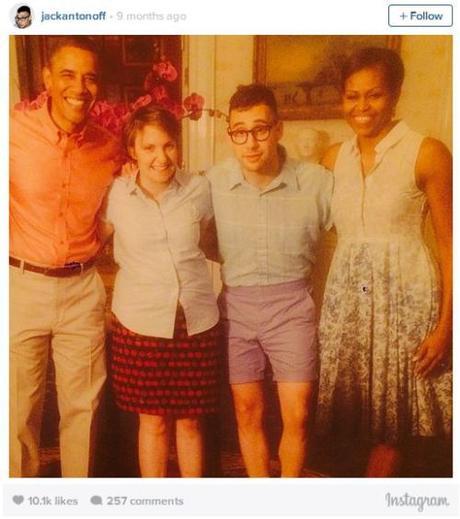 Dunham and Antonoff with their buddies
"Equality in general will always be important to the brand and will always be a conduit for charities like HRC and the Ally Coalition that are advocating for basic rights," American Apparel public relations director Roberta Oglakhchyan said in an interview. As for what Trump himself might think of the collection: "We would like to decline to comment on this question."
This is not the first time the brand has been politically motivated, with past campaigns including Legalize LA in support of immigration reform as well as Legalize Gay to fight Prop 8 in California.
Perhaps more inspiring than the clothing itself is the campaign's accompanying stories, which feature LGBTQ individuals and allies sharing what LGBTQ means to them.
DCG