Hello boys and girls!
Welcome to my nightmare…..I mean to my newest post…of course!
Today I have another set of delectable muffins for you to feast your eyes, and if you have the ingredients handy, your bodies on!
This is another from the good old faithful guys at America's Test Kitchen, their book "The Complete Cooking For Two Cookbook" I highly recommend.
If you're a couple or on your own, trying to eat well but always ending up with too much food leftover, it's fab.
This recipe is an adaptation of their Morning Glory muffins which was a mix of coconut, pineapple, apple, carrot, raisins and walnuts.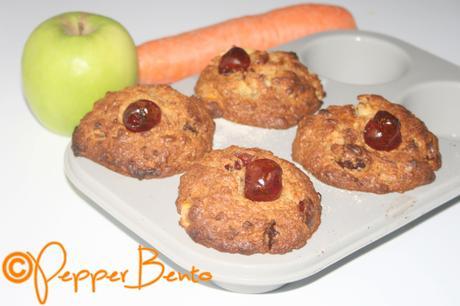 Since I can't eat walnuts because of a nut allergy, they were omitted and the hubby thought raisins didn't sound quite right so we opted for his bright idea of glacé cherries.
Of course I'm sure his selection had nothing to do with the fact they are one of his favorite foods on the planet, not at all.
I will tell you now, this recipe is a labor of love.
It only makes 4 muffins, staying in with the "for 2" aspect and quite a few things need preparing before hand.
I did think of creating a double batch but I wasn't too sure if it would screw with the super science-y part behind baking.
Best to leave it to the pros eh?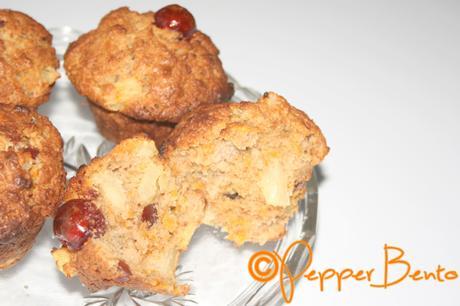 You can't really taste the carrot or apple that goes into these, so if you don't like them, or want to get away with feeding the kids healthier foods, don't worry!
What you CAN taste is lovely big bites of pineapple and delicious pieces of glacé cherry, as well as a touch of cinnamon and a toasty note of coconut. Not a bad way to eat your 5 a day!
Speaking of the coconut, for the toasted flavor this recipe calls for it to be toasted and blended in with the flour.
To do this, place it in a dry frying pan on medium heat and keep a good eye on it, until it's golden brown.
Get your measuring cups at the ready and lets cook!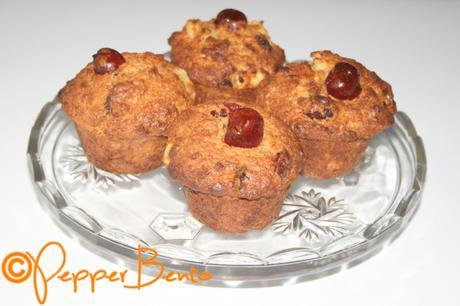 America's Test Kitchen Morning Glory Muffins: Nut Free with Cherries
Makes 4
Ingredients
1/3 cup canned pineapple chunks (reserving the juice)
1 small granny smith apple, peeled and grated
1/4 cup dessicated coconut, toasted
3/4 cup plain flour
1/4 cup granulated sugar
1/2 teaspoon bicarbonate of soda
1/4 teaspoon baking powder
1/4 teaspoon ground cinnamon
1/4 teaspoon salt
45g unsalted butter, melted and cooled
1 large free range egg
1/4 teaspoon vanilla extract
1/3 cup grated carrot (about one small carrot)
1/3 cup chopped glacé cherries, plus 4 whole for topping

Method
With the oven rack in the middle of the oven, preheat to 180oc fan.
Spray the muffin tin with cooking spray or a little oil and dust with flour.
Put the pineapple and the grated apple into a sieve over a measuring jug and gently but firmly press the juice out until the fruit is dry.
You will need 1/3 cup of liquid so if there wasn't quite enough, use some of the reserved pineapple juice until correct.
In a frying pan, bring the juice to a boil until it is reduced to 2 tablespoons.
Process the toasted coconut until finely ground.
Add in the flour, sugar, salt, bicarbonate of soda, baking powder and cinnamon and blend until incorporated.
Transfer to a large bowl.
In a smaller bowl, whisk the juice, melted butter, egg and vanilla extract.
Fold the wet into the dry ingredients then add in the fruit and fold that in too, reserving the 4 whole cherries.
Add the mix to the greased muffin tin as evenly as you can then add a glacé cherry to each middle.
Bake for 24 to 26 minutes, turning half way through.
Let them cool in the tin for 10 minutes or so, then turn them out and let them cool on a cooling rack.
Serve warm or cold, enjoy!