…well, very nearly anyway. Gulp!  Talk about a close shave. After myself and my crewmate exchanged wide-eyed looks of fear with the van driver and his passenger, we then happily exchanged waves and nervous laughter at our lucky escape. Closely followed by much manoeuvring of both vehicles to squeeze past each other on the narrow bend of a country lane.  My crewmate leaned over and took my pulse…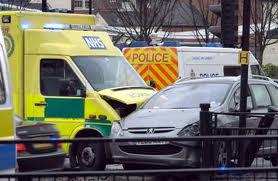 My colleagues and I were only  saying the other day how it's extraordinary given the amount of time we spend on the road, and the 'risks' we take, that we are not involved in far more collisions.  It simply defies the law of averages. By risks, I mean the fact that we exceed the speed limit, and go through red lights and occasionally drive on the wrong side of the road, and the wrong side of keep left signs.  This, of course, is only whilst driving to life-threatening emergencies or conveying a critically ill patient to hospital.  These exclusions are also not without intensive training, which includes being able to read the road ahead (and behind, and to the side) and more importantly, the minds of all the other road users.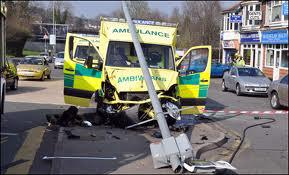 We are adept at predicting the next move of road users, as we have seen it all before, to our complete amazement, and on many an occasion.  Whilst I appreciate the ever increasing wail of the ambulance siren can initiate mild panic, frantic head turning and mirror checking, and thoughts of "Where is it?", "I can't see it!", "Which direction is it coming from?", "Where can I go?" and "OH MY GOD, it's right behind me!" are to be expected.  What I don't understand is the ensuing mass hysteria, curb climbing and sudden braking, "I know, I'll pull in the opposite side to the car in front, they can weave their 5 and a half tonne truck around us", or "I think I'll (eventually) stop on this bend, or maybe this brow of a hill, where they can hurtle past me completely blind to oncoming vehicles" and "Let's just stop right opposite the car coming in the opposite direction, so there's only just enough room for them to squeeze through" because our ambulance is straight out of a Harry Potter film and has the ability to  suck it self in and fit through any gap!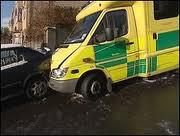 On the flip side, and continuing with the Harry Potter theme, we also appear to possess an ambulance invisibility cloak.  Yes, despite being bright yellow, not exactly on the small side, with loud sirens and lots of blinding, flashing blue led lights, some people are still oblivious to us. I wonder what's going through their minds as a line of vehicles in front of them, indicate and pull in, and they then proceed to overtake said vehicles without even checking their mirrors, because if they did, they would see that the next thing to go through their mind may very well have been the bulkhead of a Mercedes Sprinter.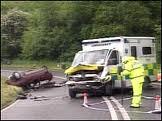 The ones that still amaze me though are the lemmings.  Well, they must be suicidal.  I can think of no other reason why someone would stop at a junction, look both ways, spot an ambulance speeding towards them sirens a-sounding and lights a-flashing, wait until they can see the whites of my eyes then pull out in front of me! Only to then immediately make a sudden swerving move to pull in out of the way. Incredible! Then there's the pedestrians, if they're not scowling and gesturing because the sirens are too loud and you're spoiling their peace (or worse interrupting their phone conversation), they are also on a suicide mission. Why would anyone decide that a good time to cross the road is when an ambulance is hurtling towards them?!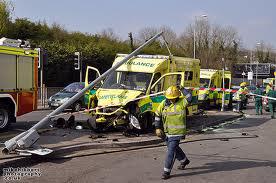 That said, there are many courteous and very helpful road users out there, and it is sometimes difficult for them to know what to do for the best. I believe driving lessons and tests should include what to do when an emergency vehicle is approaching. (I also believe they should include a lot of other things though.) Instead, here's a helpful video:
Safe driving!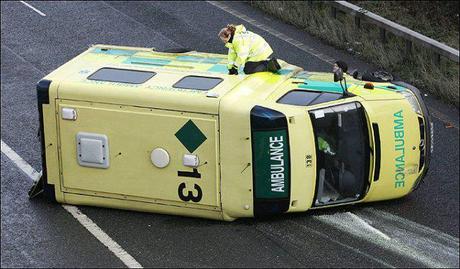 Advertisement