Amazon just announced the Amazon Kindle Fire, for which pre-order has already started and release date is set to 15 Nov 2011. Blogs are buzzing with articles calling Kindle Fire as the iPad Killer and some defending iPad's honor.  Lets see what exactly it is, then you decide if it worth $199 for you.
Before we head over to see what this tablet is about, one thing for sure at $199 it's priced apt and very cheap.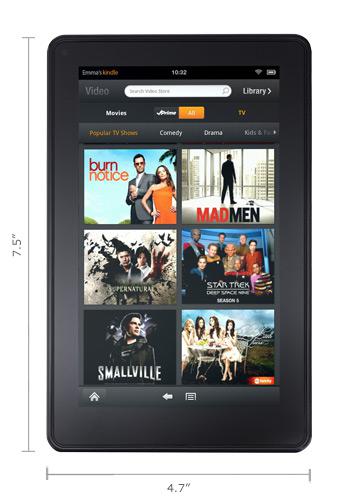 The Good
Kindle Fire is a custom Android Firmware probably 2.2 or 2.3 so running all Apps from Amazon App Store should happen without breaking a sweat.  Having a powerful 1Ghz dual core processor for 7 inch IPS display is always an upside, but thats not something worth discussing, almost all new tablets have the similar specification.
What Kindle Fire is actually about is Amazon.com, you get your device synced with your Amazon account and have the choice for more than  10,000 movies and popular TV shows, 800,000 books which cost $9.99 or less and 2 million free books – that's the US customers get access to when they buy Kindle Fire. All this content from Amazon.com can be stored on Amazon Cloud Storage free.  Being priced so low, it has to be the best price for the ported hardware.
The Bad
No camera, no mic, and more of all No 3G. The downside of all this being, no video-calls  and No 3G means despite having a ginormous Cloud content you cannot access anything without the WiFi connection.
Now the dirty part, Android fragmentation. Being Amazon's own custom firmware it won't allow you to download anything from Android Marketplace and you would be stuck with Amazon App Store to download all the Apps they provide. This also means all the Android updates from Google won't come immediately to Kindle Fire. Amazon would edit it, pack it and then ship it to users.
The sleek-looking device has one major design flaw, the broad bezel around it. I know this is a pure reading device so the having a thick bezel means better and longer grip, but come on that just makes it look chunky overall.
The device comes shipped with their own browser, Amazon Silk which should work fine.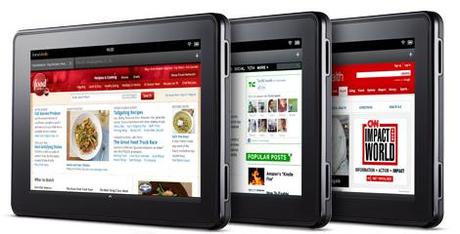 Technical Details
Display 7″ multi-touch display with IPS (in-plane switching) technology and anti-reflective treatment, 1024 x 600 pixel resolution at 169 ppi, 16 million colors.
Size (in inches) 7.5″ x 4.7″ x 0.45″ (190 mm x 120 mm x 11.4 mm).
Weight 14.6 ounces (413 grams).
System Requirements None, because it's wireless and doesn't require a computer.
On-device Storage 8GB internal. That's enough for 80 apps, plus either 10 movies or 800 songs or 6,000 books.
Cloud Storage Free cloud storage for all Amazon content
Battery Life Up to 8 hours of continuous reading or 7.5 hours of video playback, with wireless off. Battery life will vary based on wireless usage, such as web browsing and downloading content.
Charge Time Fully charges in approximately 4 hours via included U.S. power adapter. Also supports charging from your computer via USB.
Wi-Fi Connectivity Supports public and private Wi-Fi networks or hotspots that use the 802.11b, 802.11g, 802.11n, or 802.1X standard with support for WEP, WPA and WPA2 security using password authentication; does not support connecting to ad-hoc (or peer-to-peer) Wi-Fi networks.
USB Port USB 2.0 (micro-B connector)
Audio 3.5 mm stereo audio jack, top-mounted stereo speakers.
Content Formats Supported Kindle (AZW), TXT, PDF, unprotected MOBI, PRC natively, Audible (Audible Enhanced (AA, AAX)), DOC, DOCX, JPEG, GIF, PNG, BMP, non-DRM AAC, MP3, MIDI, OGG, WAV, MP4, VP8.
Documentation Quick Start Guide(included in box); Kindle User's Guide (pre-installed on device)
Warranty and Service 1-year limited warranty and service included. Optional 2-year Extended Warranty available for U.S. customers sold separately. Use of Kindle is subject to the terms found here.
Included in the Box Kindle Fire device, U.S. power adapter (supports 100-240V), and Quick Start Guide.
Despite all the arguments, Amazon has truly brought in a revolutionary device what HTC, Samsung ,Motorola, Blackberry brought were the 'copy-cat' as quoted by Steve Jobs and Kindle Fire seems to be a tablet which actually isn't iPad.
According to iSuppli, it costs $209.63 to manufacture a Kindle Fire for which Amazon just charges us $199. So we could say it's reasonably priced. Launching 15th November 2011, and it has to be a perfect time to launch as people would be buying a Christmas gift sooner or later but should be expect a price drop as in Christmas sale?
You can pre-order to reserve your place in-line here.