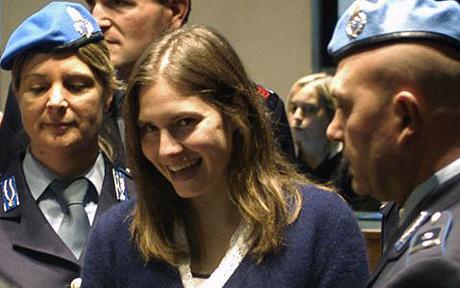 Amanda Knox
American student Amanda Knox was cleared last night of the murder of her British flatmate, Meredith Kercher, in 2007. Knox, 24, was convicted in 2009 along with her Italian boyfriend, Raffaele Sollecito. The pair were freed after judges upheld their appeal. Kercher, 21, was found dead in the bedroom of the house she shared with Knox in the Italian city of Perugia. Knox – or "Foxy Knoxy" as she became known – spent four years in prison after being charged with the killing; she is believed to be heading back to the US with her family.
Knox's trial and subsequent appeal have generated a media frenzy – and in their haste to report the verdict, it appears some news outlets got rather over-excited.
Daily Mail. Gawker reported that The Daily Mail initially published a story that Amanda Knox had lost her appeal. A screengrab of the Mail story on the Gawker site began: "Amanda Knox looked stunned this evening after she dramatically lost her prison appeal against her murder conviction." The Mail even "quoted" the Italian prosecutors' reaction to the fictional verdict.
Sun and Sky. But at least the Mail weren't alone in their confusion. According to blogger Malcolm Coles, The Sun briefly published a similar story. The Huffington Post UK reported that Sky News displayed the wrong verdict on their breaking news ticker.
The Guardian. And The Guardian also did the guilty/not guilty shuffle, with Ben Quinn reporting on the paper's live blog of the trial that Knox and Sollecito had lost their appeal. The entry was later corrected and an apology issued.
Confusion. As The Daily Mail was inexplicably at pains to point out, the confusion appears to have been caused by the judge announcing that Knox was guilty – but only of slander. The American student had falsely accused a local bar owner of murdering  Kercher during the initial police inquiry.
More media »