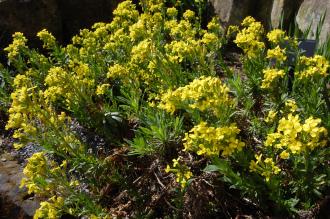 Alyssoides utriculata (23/04/2016, Kew Gardens, London)
Position: Full sun
Flowering period: Late Spring to early summer
Soil: Moist, well drained, sandy
Eventual Height: 25cm
Eventual Spread: 25cm
Hardiness: 6a, 6b, 7a, 7b, 8a, 8b, 9a
Family: Brassicaceae
Alyssoides utriculata is an evergreen perennial with a low growing mounded habit. Its mid green leaves are oblanceolate with entire margins, up to 5cm long and 8mm across. Its fragrant yellow flowers appear as a terminal raceme. Its fruit appear as spherical, bladder like, seed pods.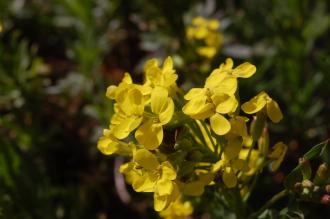 Alyssoides utriculata Flower (23/04/2016, Kew Gardens, London)
Alyssoides utriculata, commonly known as Bladder pod, is native to the mountainous regions of Europe, including the Alps and those of the Balkans. In its native habitat it grows in alpine regions on dry rocky slopes.
The etymological root of the binomial name Alyssoides is named after another genus of plant Alyssum and the epithet -oides meaning 'resembling'. Utriculata is derived from the Latin utriculus meaning 'wine skin', in reference to the shape of the seed.

The landscape architect may find Alyssoides utriculata useful as a low growing, spring flowering plant suitable for rock gardens. Once established this plant is drought tollerant.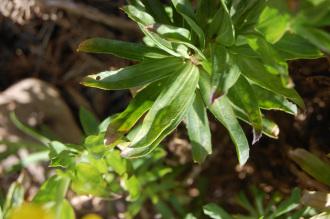 Alyssoides utriculata Leaf (23/04/2016, Kew Gardens, London)
Ecologically,  Alyssoides utriculata flowers are attractive to pollinating insects.

Alyssoides utriculata prefers moist, sandy, well-drained soils. It tolerates most pH of soil.
Alyssoides utriculata requires little maintenance.


Landscape Architecture