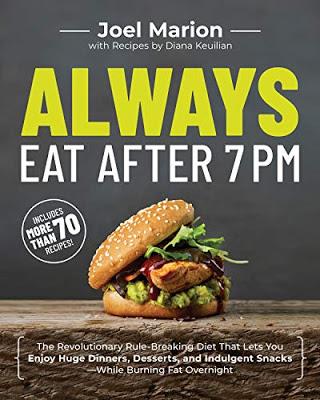 This post is brought to you by our sponsor, "Always Eat After 7 PM". The opinions expressed below are my own
I have been wanting to get serious about shedding some extra weight, increasing my energy and just feeling better in general. Honestly, also I want to get my high blood pressure in control. I jumped at the chance to receive an advance copy of
"Always Eat After 7 PM" by Joel Marion
. Over the next month, I'll be sharing my experience of the book and diet (and hopefully some awesome benefits!)
Basically, the
Always Eat After 7 PM
plan consists of: The 14-day Acceleration Phase to kick-start the program and see rapid results, The Main Phase where you'll learn exactly which foods to eat when in order to achieve your weight-loss goals, The Lifestyle Phase to keep the weight off for good.
I'M IN.
Right away, Joel begins addressing my first thought.. I thought eating late was against all the rules?!  Providing studies and his own experience battling weight, this book gets right to it. After doing the research, Joel decided to put his theory to the test and the results were awesome! 12 lbs down in the first 2 weeks, 46 lbs after 16 weeks, flatter abs and more energy. SIGN ME UP. But what really struck a chord with me was this:
"At my next medical checkup, my doctor was shocked at how good my blood work had gotten, so quickly. And let's not forget the most important part: for the first time in months, I had the energy to keep up with my little girls."
Having the energy to keep up with my everyday life and pets is TOP of my list of health goals. I'm excited to dive in and I'll post an update next week, so stay tuned!
Always Eat After 7 PM
: The Revolutionary Rule-Breaking Diet That Lets You Enjoy Huge Dinners, Desserts, and Indulgent Snacks—While Burning Fat Overnight by Joel Marion is now available to purchase.
N

ow you should do what you've been told not to—always eat after 7 PM!