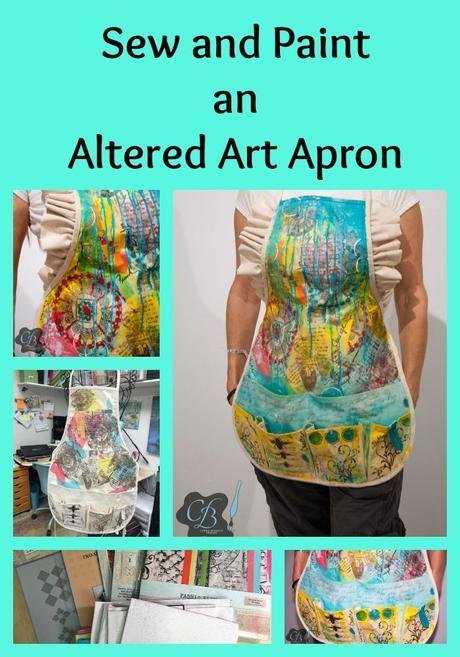 I was thrilled that Rebekah Meier asked me to be a part of this blog hop celebrating the release of her new Fabric Elements.  Fabric Elements won the "Hot New Product" award at CHA 2015 and for good reason.  Her new products are all meant to work together and with other mediums, so this was very much up my alley.  Make sure to read all the way to the bottom because we have a Challenge for you to play and enter to win an AMAZING prize package.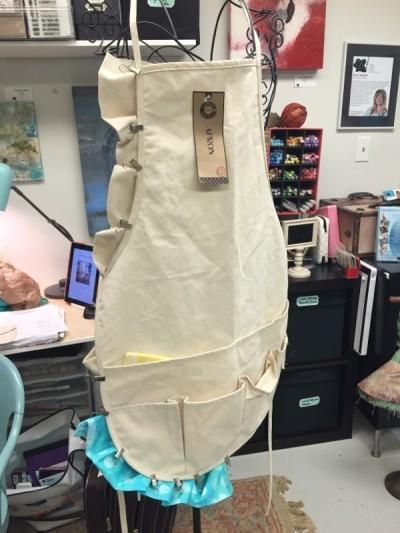 I started my project with a blank Canvas Corp apron.   You can see I was pinning fabric in places to see what it might look like.  (and I did not add the bottom ruffle in the end)  I'm a curvy aka busty gal and sometimes these bib aprons need a little more coverage to be comfortable wearing in public.  I also wanted a custom apron for my teaching tours, something inspiring to me and representative of ME!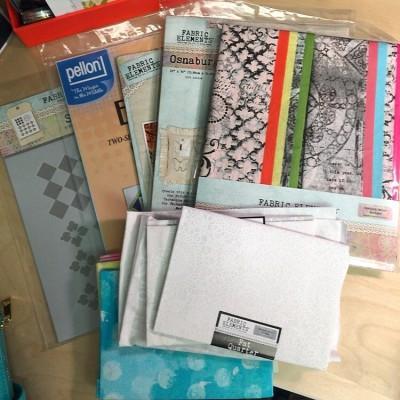 Playing with the Fabric Elements collection, I began to design my apron much like I would an art journal page.  You can make yours with these instructions: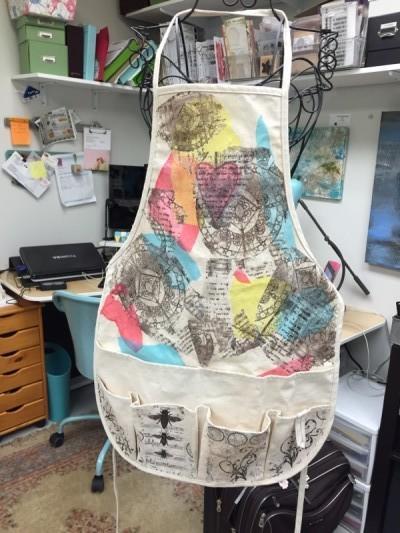 Using Matte Medium, apply tissue paper collage onto apron.
Allow to dry and then add any journaling or stamping to your apron.  Make sure to use a permanent pen and ink.  I used Design Memory Craft Faber-Castell PITT Artist pens and Archiver's Ink.
To better ensure permanency of ink, I then heat set my journaling and stamping.
Using fluid paint mixed with Fabric medium, paint sections of your apron.  I used DecoArt Fluid acrylics.
Allow paint to dry completely.
Trim fabric for your ruffle.  I cut 6.5″ wide strips from Osnaburg fabric (part of the Fabric Elements Collection).
Fold fabric strips in half lengthwise.  Sew two short ends together with 1/4″ seam and turn rightside out.
Sew a long running basting stitch down the long end of my fabric leaving long strings at beginning and end of stitching.
Pull long bobbin thread to create a gather in the strips.
Repeat for second fabric strip.
Pin both ruffled strips with edges under apron.  Adjust gathers as needed.  I even pinned closer to the waist area so the ruffles were not as wide at that section.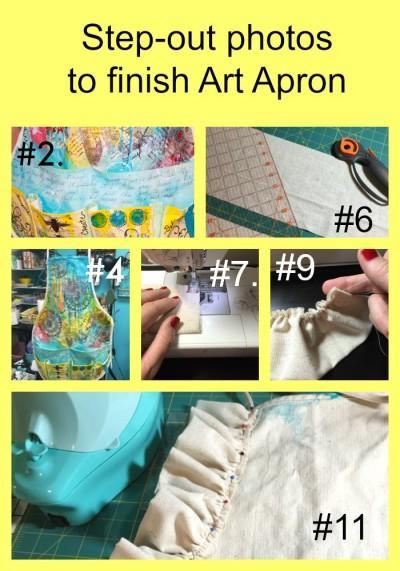 I love how my Altered Art Apron came out.  I'm sure this will be something that will evolve even further over time as I get more paint on it from projects and sharing my passion when Teaching The Art Life™.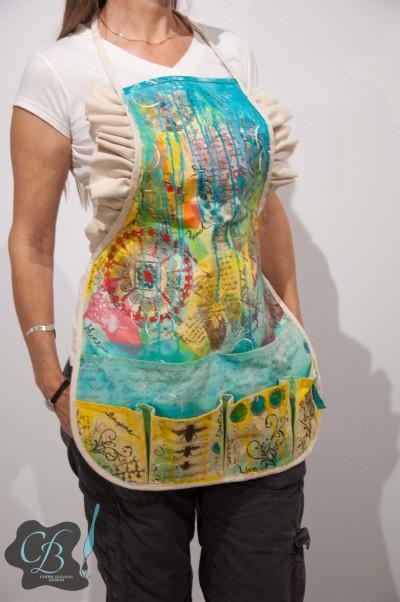 **Thank you to my model, Stacey.
I hope I inspired you to create your own project.  Rebekah's Fabric Elements are available now at JoAnn Fabric and Craft Stores and at www.joann.com.
Want to join us for this Challenge?  Don't forget to see all the other stunning projects for this blog hop.
Fabric Elements Creative Challenge
Here's the Challenge:
Fabric Editions, Inc. wants to see how mixed-media artists can adopt and play within the new fabric substrates of the Fabric Elements product line. To kick off the product launch we are having a Creative Challenge using the Fabric Elements products.
The products were developed by Rebekah Meier following the success of her books about Fabric Art Collage. There are 32 SKUS now on sale at Joann Fabric and Craft stores, and also a new book by Rebekah called "Techniques in Mixed Media" which shows step-by-step mixed media projects.  The products include pre-cut substrates such as Wool Felt, Lutradur, Peltex, Batting, Waffle Muslin, Osnaburg, all in neutrals so that ANYTHING can be created. There is also tissue and stencils designed by Rebekah Meier as well.
Creative Challenge Guidelines:
1. Create a project using at least 2 of the products from the Fabric Elements collection, available in Jo-Ann Fabric & Craft stores in the quilting section.
2. Share finished project image on Facebook, Twitter, or Instagram with #FabricElements, anytime between September 1 and September 24.   Fabric Editions will find them in social media, or you can email them to: [email protected] and they will be posted.
Rebekah Meier's will choose the top 20 entries on September 24, 2015. The finalists' project photos will be posted in Fabric Editions Facebook page for voting. Voting ends September 29, and the winner will be announced September 30, 2015. The photo with the most "likes" wins!
Prize:
Each of the 20 finalists will receive a copy of Rebekah Meier's book, "Techniques For Mixed Media"
The Grand Prize Winner will receive 1 of each the items in the Fabric Elements product line, plus a Fabi Sizzix cutter and 3 dies: Prize valued at $379.00 (no cash prizes).
·  Fabi Sizzix Machine
·  3 Bigz-Dies,
·  Techniques For Mixed Media Book by Rebekah Meier
·  6 Colored fat quarters: yellow, pink, orange, blue, purple, green
·  6 white on white fat quarters
·  Waffle Muslin
·  Peltex/Lutradur
·  3 Stencils
·  Canvas Banners
·  Burlap Banners
·  Pellon EZ-Steam II
·  Canvas Tags
·  Tissue Paper
·  Osnaburg
·  Batting
·  Gauze
·  Wool Felt
·  9 Bottles of Jacquard Dye-Na-Flow Fluid Acrylic Textile paint
The products are in Jo-Ann Fabric and Craft stores on September 1 and on joann.com. 
Facebook: https://www.facebook.com/FabricEditions
Instagram: https://instagram.com/fabriceditions/
Pinterest: https://www.pinterest.com/fabriceditions/
Twitter: https://twitter.com/FabricEditions
Blog and more about Fabric Elements: http://blog.fabriceditions.com/index.php/fabric-elements-august-2015/