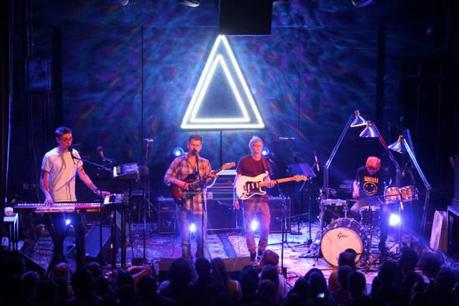 Photo Credit: Will Oliver/We All Want Someone To Shout For
That's it you guys – Alt-J (@alt_j) have hit the big time. The selling out Bowery Ballroom (without even having a record out in the US), bringing a church choir to sing back up, adding a violinist and having a giant fluorescent triangle kind of big time. I don't know about you, but I'm feeling pretty good about it.
Wednesday night's show got off to a late start. People arriving early to catch the melancholic beauty of JBM (@jessemarchant) were told to wait below deck an extra hour. When it did start, though, the set was pure magic to behold. Brooklyn-based singer-songwriter JBM and his band of pretty faced boys started the night with sad songs for people of love pedal steel guitars. They play very delicate and lovely music, the kind best listened to on a rainy day and best appreciated as a record.
After setting up the giant, light-up delta sign and sweet lamps around the drums (those lamps were pretty cool) the boys came on to thunderous applause that only stopped when they launched into a new song. With only an album of material, the performance was relatively brief, but that doesn't mean it was anything less than spectacular. From the sound of the crowd, every song was a favorite — they were singing practically every damn word. When the band brought out a church choir to help with the lush harmonies of "Ripe and Ruin", the crowd went wild; when they launched into the ecstatic castanets of "Fitzpleasure," the crowed went wild; when lead singer Joe Newman thanked the crowed for going wild, they went wild again.
A month ago, I wrote about how Alt-J wowed me and surpassed my wildly high expectation at their sold out Mercury Lounge show. To have that effect twice in as many months is somewhat unheard of — thanks Alt-J, I've had a ton of fun.