A new post after a break.This time I am sharing recipe of spicy yet tasty evening snack..Aloo Methi Kachori! I had shared
I love winter,as during this time I can officially eat hot - spicy tea time snacks without feeling guilt as we all love some tasty snack with evening tea 😁. What I love is homemade kachori,pakoda,samosa and batawada with hot cup of tea ofcourse!
Apart from this I love to have variety of soups 😋
I love some hot and spicy snack anytime but eating out is something I don't prefer mostly these days. Kachori Chaat and Moong Dal Kachori, before. Check those recipes too.
May be because I am so used to prepare so many things at home somehow cooking is a stress buster plus a learning process for me.
I love to give recipes which will make you all never loose interest in my food, as me - myself feel bad when my effort ,time and food gets wasted if I don't prepare as per expectations.
People share their feedback with me through messages and pictures saying that they loved my recipe. That sense of satisfaction is really wonderful.
Here is another similar nice,lip-smacking recipe for all tea-time snack lovers!
Try this kachori and enjoy this winter!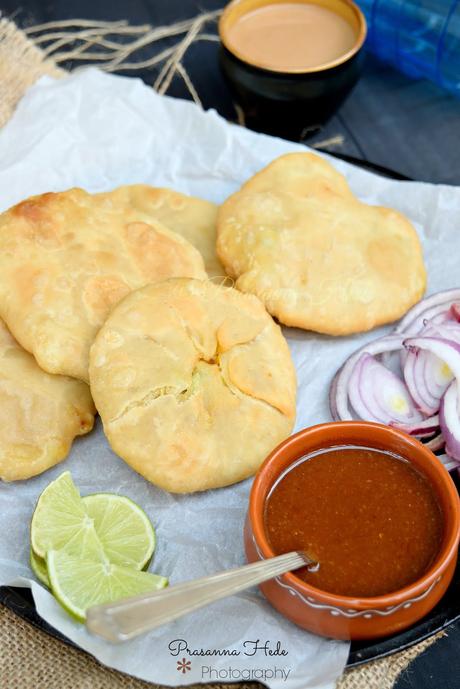 2 No, Medium Potatoes,Boiled,Peeled
1/2 Cup, Methi / Fenugreek Leaves,washed and chopped finely
as per need, Salt
1 Teaspoon, Sugar
1 Teaspoon, Coriander Seeds,Powdered
1 Teaspoon, Fennel Seeds, Powdered
1/2 Teaspoon, Carom Seeds, Powdered
1/2 Teaspoon, Turmeric Powder
1 Teaspoon, Red Chili Powder
1/2 Teaspoon, Cumin Powder
1 Small, Onion,finely chopped
Firstly,make the dough.
In a mixing bowl,add the ingredients "For Dough" except water.
Add water slowly to make a smooth yet tight dough.
Cover the dough with damp cloth and let it sit for 1 hour.
Now,make the stuffing.
In a mixing bowl,add the potatoes,fenugreek leaves and rest of the ingredients.
Mix well with a potato masher.
Make small balls of this dough.
Now,pinch a dough ball.
On a rolling board,roll the dough ball to small circle/poori.
Place the stuffing ball on the circle and close the dough sides to form kachori.
Bring all the ends of the circle at center and close the kachori.
Make sure the kachori is sealed well otherwise the stuffing will come out while frying.
Heat oil in a deep frying pan.
When its hot, slowly drop the kachori and fry till crispy and puffed well.
Serve with sweet chutney and hot tea!
Prep Time:1 Hour Cook Time:15 Minutes Serves:8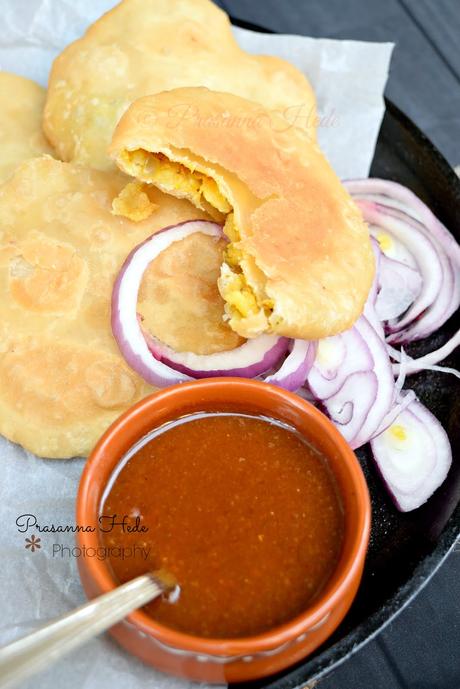 Always cover the dough and keep aside for at-least 1 hour before making the kachori.
Seal the kachori well before frying.
Check my recipe of sweet chutney.