It's 4 am IST as I start to type this & I'm at the airport waiting to take off to Jaipur, Rajasthan. I was so terrified I would oversleep & miss my flight, that I pretty much didn't sleep at all! And now I need to make sure I don't doze off & miss boarding the airplane all together! I hate early morning trips!
It's been a month since I last visited the Pink City & even as sleepy as I am, I'm pretty excited about going back. A new set of kids to work with, a new workshop, new things to explore & discover! Being a drama teacher really is a fun & exciting job. But a week away, also means time away from my Kitchen & being able to cook! Sometimes it's a good thing, other times… well, like when I spent a month there in December, I so missed cooking that I nearly put out a  status update on Facebook asking my friends if they had friends in Jaipur who would loan me their kitchen for an afternoon! I was luckier on my last trip when I caught up with an old friend who invited me home for a delicious Bengali style Mutton & her daughter & I baked a cake!
I couldn't leave home for a week without making something…especially since the past week was chaotic (as usual) & I couldn't cook anything interesting (or blog-worthy!) since my last post. And once again there was this urgency to bake!  You know how it is!
I haven't baked bread since I started my diet in March. I'm okay with all the light meals & eating right, the salads & healthy desserts, but if there's one thing that I've truly craved & missed is some warm, fresh home-made bread… the soft crumb, the crust, the aroma!
And this Sunday… I gave in! I teamed the bread with another one of my favourites… Goan Sausages!
Goa is a small state on the West Coast of India & a very popular tourist destination. It's got beaches, the river, churches & quaint architecture. It was a Portuguese colony & you can still see the influence on food, buildings, lifestyle & even the language. I love Goa & if I could, I would go live there tomorrow! Get a small shack on the beach & start a bakery. I've had some of my best vacations there, with family & a rocking one with my girl friends! The food here is amazing… a lot of fresh sea food….prawn, lobster, calamari, cooked with spices & coconut, bebinca, a traditional dessert with coconut milk & sugar, pork sorpotel & xacuti, & of course Goan Sausages!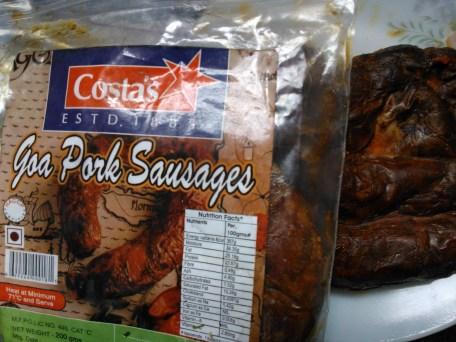 These sausages are a blend of Portuguese sausages with Goan spices &  are packed with flavour… fiery & tangy all at once & go very well with crusty bread. You can't stop eating them! Luckily my regular cold storage stocks these so even if I can't be in Goa, I can bring a bit of Goa home & team it up with a bit of Italy

Ingredients
2 cups + extra (for dusting) Whole Wheat Flour
1/2 cup Plain Flour (hence the "almost" in the title!)
10 gm Fresh Yeast
1 to 2 teaspoons Sugar
5 – 6 tablespoons + extra (for drizzling) Olive Oil
3/4 cup Milk + water
1 Egg (beaten)
Salt
200-250 gm Goan Sausages
Note: I've used milk & egg here because whole wheat tends to make the bread denser & dryer & these bring back the softness & lightness.
Method
Mix the yeast, sugar & a few tablespoons of lukewarm water in a small bowl. Cover & keep aside for about 10 minutes till it gets frothy.
In a large bowl, whisk together flour & salt.
Add the yeast, egg, milk & olive oil to the flour to make a soft , sticky dough. Add more flour or water to get he right texture. A lot of this depends on the weather & humidity in the air.
 Turn the dough onto a floured counter & knead gently till it comes together smooth & elastic.
Place the dough in a large, well oiled bowl, cover it with cling film & leave to rise in a warm & dry place for about an hour or until it doubles in size.
While the dough proves, prepare the sausages. Remove the meat from the casing & saute in a non-stick wok, without any oil. Splash some water in the wok. Cover it with a deep plate & pour water into the plate & allow the sausages to cook for 20-25 minutes, stirring occasionally. Keep aside.

After the dough rises, knock it back & knead well.
Pat the dough out to a square shape & place in a very well oiled baking tin.
Cover with cling film & leave to rise for another half hour.

After half hour spread the sausages over the dough, sprinkle olives & generously drizzle olive oil over it. 

Bake in a pre-heated oven at 220 C for about 25 minutes.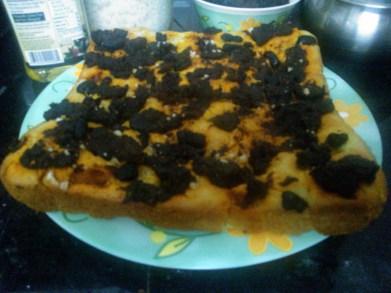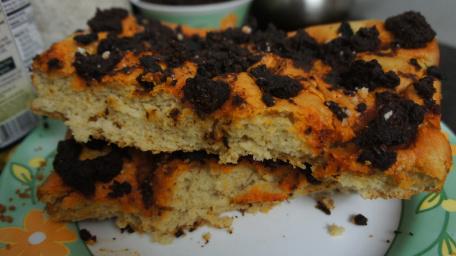 I'm so glad I gave in to my bread craving! Couldn't stop eating this fresh, crusty, chewy yet soft bread! And the sausage topping…. Delish!
I stuffed some of the remaining sausages into the leftover dough & made this as a snack to carry with me to Jaipur