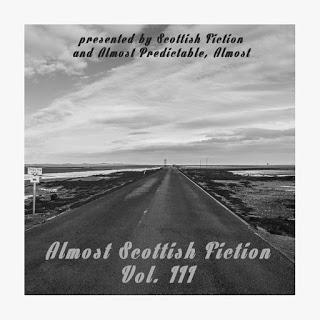 It's the not-quite-the-first Monday of June, however a week late is better than never!  Myself and David are absolutely thrilled to unveil Volume 3 of the Almost Scottish Fiction EP  series.  Again there's six tracks to wrap your lugs around, and my oh my what a collection they are!  I know I have to say that, but really I'm smiling ear to ear about how good this little EP is.
As before the EP is curated by myself on behalf of Scottish Fiction, and David McElroy from Almost Predictable, Almost and features tracks from our favorite artists.  To grab your download head along to the Scottish Fiction Bandcamp, or the Almost Predictable, Almost Bandcamp and download.
Machines In Heaven - Taxpayers Compass
Machines In Heaven have provided us this exclusive track for this release.  Combining the power of the Aphex Twin and Radiohead circa Kid A, this is a masterclass in electronic pop music which still retains the band's experimental edge.
Mt. Doubt - Leap
Taken from Mt. Doubt's stunning debut album My Past Is A Quiet Beast,  this track is a driving number with shimmering guitars creating a War On Drugs style feel. Leo Bargary's vocals complete the package with a baritone quality reminiscent of Matt Berninger.
Shards - Just To Get Something Started
Shards debut release Just To Get Something Started  perfectly shows off the band's brand of melancholic eletronica which the band have christened melancholitronica.  It's part ambient, part experimental and really rather fantastic.
WASHED - One To Five
WASHED is the new electronic project by David previously of Fiction Faction.  This track One To Five  offers a tasty insight into what has been going on in the studio, with reverb vocals draped over rising and see-sawing synths.

in:tides - Yours Is The Earth
Yours Is The Earth  is the closing and title track from Glasgow post-rockers in:tides' latest EP.   If you like your music layered, building and with arena filling atmosphere, then this will be right up your street.  The band are playing at Xpo-North this week so don't forget to check them out!
Analog Angel - Your Breath
Your Breath  is Analog Angel's most recent single, released ahead of their rather exciting support slot with former Kraftwerk man Wolfgang Flur in Norwich on 20th June.   The track is a much poppier affair than the band's previous releases, though no less powerful.