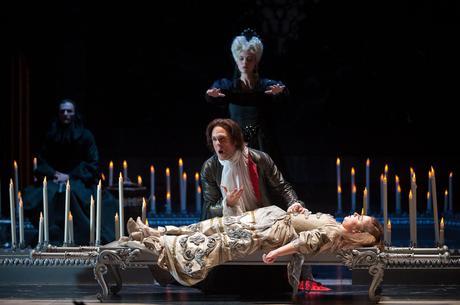 Les Arts Florissants
At the conclusion of Wednesday's performance of
Atys
at the
Brooklyn Academy of Music
, I was standing in the last row, clapping and shouting to express my delight and my gratitude; but I might as well have been silent upon a peak in Darien. My only previous acquaintance with Jean-Baptiste Lully's opera (Really Shameful Confession) had been through Les Arts Florissants' 1987 recording. Experiencing the ensemble's live performance of the work was a revelation. The device of employing the sumptuous decor and costumes of the 
ancien régime
made sense of the opera's masques and dances, and its earnest debates on love and reason, tyranny and freedom, duty and desire. The magic of the evening, though, lay in the miracle of its coherence: orchestra, singers, and dancers together created an elegant, expressive performance.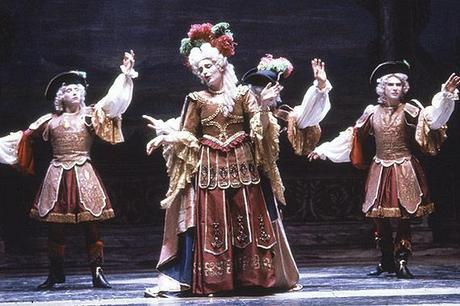 Scene from the prologue: Melpomene and attendants
A summary of
Atys
' plot may be found
here
; the gorgeous Quinault libretto here. This production (soon to be available on DVD) stages the prologue as a court entertainment of the sort
Atys
was. Among mischievous harlequins and dignified deities, Élodie Fonnard stood out as a charming Flora. Although the master of ceremonies (Jean Charles de Zazzo) was not named as Lully in the program, he conducted with the scythe of Time, which struck me as both morbid and brilliant given the manner of the composer's death. This frame fell away before the commencement of the central drama. My ignorance of ballet terminology is so profound that all I can do is say that my admiration for the dancers of this production is equally so. To my beginner's eye, at any rate, the remarkably detailed choreography struck me as elegant, expressive, and well-executed. While I didn't feel there was a weak link among the singers, bass-baritone Bernard Deletré stood out through making Sangar comic without veering into slapstick. Paul Agnew, as the god of sleep, led an ensemble so lovely that the main thing inspiring resistance to drowsiness was a desire not to miss any of the melody.
Credit is due to all the principals for their commitment to the complexity of the characters and the urgency of their emotional predicaments. As the king Celenus, Nicolas Rivenq may have been slightly stiff, vocally, but he still gave a moving performance as the noble monarch tempted to tyranny by emotional disappointment, with disastrous consequences. Cybèle, proving that the fury of a woman scorned is nothing next to that of a goddess, was sung by mezzo-soprano Anna Reinhold. She was assured and passionate, and genuinely moving in her "Espoir si cher et si doux." Emmanuelle de Negri was an exquisite Sangaride, with fluid phrasing, and a sincerity which demanded that her character's emotional journey, even when marked by youthful vacillations, should be taken seriously. Ed Lyon sang the titular hero with flair and a similarly compelling earnestness. ...And then there was the magic in the pit. This was Lully without
langueurs,
with wit, energy, romance, pathos, and--a phrase I'm not sure I had ever considered formulating until last night--thrilling harpsichord playing (the latter by Béatrice Martin.) William Christie is a miraculous baroque-conjuring wizard and I love him. Go see this, if you can, Gentle Readers. Buy the DVD, when it's out. Send champagne to the Brooklyn Academy of Music, marked for Les Arts Florissants. They've earned it.