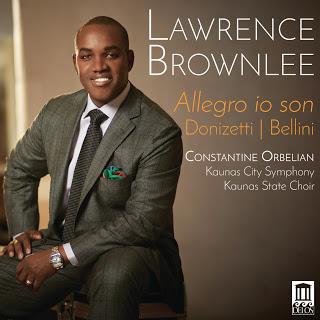 As this blog makes clear, I'm usually more likely to be attracted by records involving German orchestration and unfulfilled longing than by cheerfully-titled discs of bel canto. The artistry of Lawrence Brownlee, though, drew me to his new album of Bellini and Donizetti, Allegro io son, and I've been listening to it repeatedly. It's a thoughtfully put-together disc, and one that admirably showcases not only the versatility of the composers, but Brownlee's own remarkable vocal and emotional range as an artist. Both his talent and his generosity as a performer are richly displayed. The Kaunas City Symphony Orchestra and the Kaunas State Choir, sensitively led by Constantine Orbelian, provide support of high quality.
Donizetti's prolific output as a composer of international renown and impressive versatility is imperfectly represented by performances of his operas (charming though they are!) so it was nice to find some comparative rarities here. The infectiously ebullient title track, from Rita, is followed by an excerpt from La Favorite, a favorite opera of Edmond Dantès (a protagonist, incidentally, whose love of opera deserves more scholarly attention.) The two selections from Don Pasquale, contrasting in tone, are both given with remarkable sensitivity. "Com'è gentil" is graceful and ardent; "Chercherai lontana terra" yearning and sorrowful. "Seul sur la terre" is plangent, with the melodic lines allowed to take priority over Scribe's somewhat overwrought French. Brownlee's attention to text is impressive throughout, though, in both French and Italian.
The second half of the album brings more familiar fare, and more knowledgeable bel canto aficionados might have a wish list of things Brownlee could have included instead of I Puritani, L'Elisir d'Amore, and La Fille du Régiment. But Brownlee's "A te, o cara" is a thing to be basked in (Viktorija Miskunaite is his Elvira.) "Al fin son salvo" is also beautifully shaped, almost a scene unto itself. It is no surprised that Brownlee brings tremendous charm to his Nemorino, but he also invests his two arias with tenderness and depth of feeling... to say nothing of the elegant ornamentation on "Una furtiva lagrima." Brownlee makes "Pour me rapprocher de Marie" a moving declaration, ending with a beautifully balanced voix mixte. The exuberant "Ah! mes amis" is given with sensitivity and humor, as well as vocal fireworks, a fittingly joyous conclusion to an impressively multifaceted album.