LANCASTER – A Palmdale man has been charged with murder for allegedly driving under the influence and killing a sleeping teen on Easter Sunday when he drove his SUV into her apartment.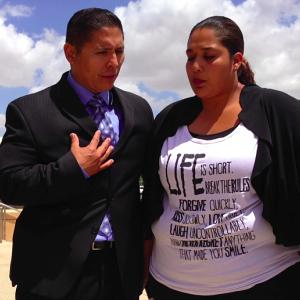 Reflecting and comforting one another outside the Antelope Valley Courthouse are, from left, Dr. Miguel Suarez Coronado, president of Agents of Change; and Yadira Mendoza, Giselle's sister
The Los Angeles County District Attorney's case also alleges that Rodríguez caused great bodily injury to the victim, 16-year-old Giselle Mendoza, according to Ricardo Santiago, Public Information Officer for the DA's Office.
Deputy District Attorney Edward Wiley said in a released statement that Rodríguez crashed a Nissan Pathfinder into the victim's bedroom inside an apartment complex near Avenue R and 10th Street East in Palmdale on Sunday, April 20.
Though Rodriguez was out on a $100,000 bond, that bail was exonerated, and he was then remanded on bail set at $1.03 million.
Judge Steven D. Ogden told Rodríguez at the arraignment that remanding him on such a large amount of cash is "the only way I can feel confident about protecting the public."
Dr. Miguel Suarez Coronado, president of the community non-profit Agents of Change, agreed that Judge Ogden's decision was made in the interest of the public's safety.
"The judge made his point pretty simply: 'If you're not safe in your own home, where can you possibly be safe?'" said Coronado, who invited local media to the courthouse to raise awareness on the consequences of drinking and driving. "So he decided to keep Rodríguez in there. Not saying he was a flight risk, but to protect the public."
A bail review hearing for Rodríguez was set for May 23, and his preliminary hearing will take place June 25 at the Los Angeles County Superior Court, Antelope Valley Branch.
Rodríguez faces a maximum possible sentence of 15-years-to-life in state prison if he is convicted as charged on all counts, according to the DA's office.
The case remains under investigation by the Los Angeles County Sheriff's Department, Palmdale Station.
After the arraignment, friends and family of Giselle Mendoza gathered outside the courthouse to reflect briefly on her.
Yadira Mendoza, Giselle's sister, was unable to comment on the ongoing case against Rodríguez but said that the public needs to understand how careless behavior, such as drinking and driving, may result in deadly consequences for innocent people.
"Whether friends or family, everyone is hurt by drinking and driving," Mendoza said. "Instead of driving (when intoxicated), just call a cab and don't endanger someone else's family member."
Mendoza also said she and her family were grateful for the public's support and their donations.
Eighteen-year-old Branden Eshrati, who serves as the spokesman for Agents of Change, said he attended the arraignment to not only show support for members of the family, but also to advocate against drinking and driving in his community.
As a member of SOAR High School's InvenTeam, he is one of 14 members coordinating with Lemelson-MIT InvenTeams to design and market a blood alcohol content detection bracelet called "ëris".
"When you breathe into the sensor, a little LED light will either light up red or blue to indicate whether you are above or below the legal limit to drive," explained Eshrati, who said the purpose of the group's bracelet is to significantly lower the number of people who drive under the influence of alcohol.
According to his team's research, 32 percent of deaths of 16-20 year olds nationwide are due to alcohol-related traffic accidents. The bracelet, which is proposed to sell for $20 once it reaches the market, will be presented to MIT officials at the Lemelson-MIT EurekaFest in June.
More information on the blood alcohol content detection bracelet can be found at SOARinvenTeam.blogspot.com.
Coronado, who is also an adviser to the Sheriff's Department in Lancaster, said there is no winner in court for a case like this.
"This impacts and affects the whole community," said Coronado, whose organization raised $8,000 toward Giselle Mendoza's burial costs. "If we don't come together as a community to condemn drinking and driving, then it's going to happen again, and we are going to have to raise money to bury another child."