Microsoft is working hard to make their mark in the ever growing smartphone market. With iOS and Samsung Android battling it out to reach the top, Microsoft is silently working to catch up with lost time and providing everything the competition provides plus some features which exclusively make Windows Phone OS the original mobile Operating System.
Being said that Windows Phone 8 is exactly the type of update Microsoft was looking for to put their feet firmly in the ground and show they too exist in the battle.
Handsets from Nokia, HTC and Samsung will feature the new mobile OS. Windows Phone 8 ( WP8 ) will bring about new features as well as upgrade the current features to quite an extent. If you have used the Windows Phone before, you would see the change not only out of the box but even some performance tweaks. It is believe that this OS runs on the same kernel as the new desktop Windows 8, which definitely says how powerful this OS is actually.
Lets look at the features and some crazy videos Microsoft made to promote the Windows Phone 8.
Homescreen, LockScreen & Live Tiles
The most obvious and the long talked/expected update was the new-more-customisable Homescreen and Lockscreen. The Homescreen Live tiles are resizable into three different sizes, the larger the tile the more info it displays.You can add different widgets and even pin some important notification/note/information to your homescreen to give it the highest priority.
Games And Apps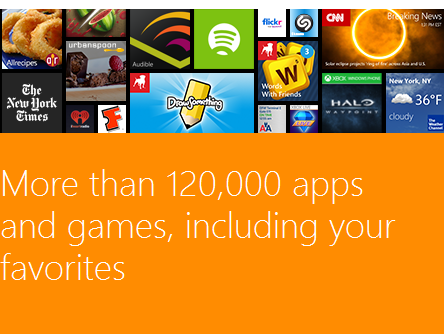 There are now 120,000 apps in the Windows Store and growing rapidly. 46 out of 50 top apps from all the mobile platforms are either already here or are in the process of making an App for the Window Phone 8. Skype has been tweaked and mastered deep in the Windows Phone 8 to run in the background all the time without draining your battery. Pandora for WP8 was announced and along with that comes one year of ad-free music. All the basic Apps are upgraded to work as live tiles, even Facebook and Twitter are updated with live tiles.
Kid's Corner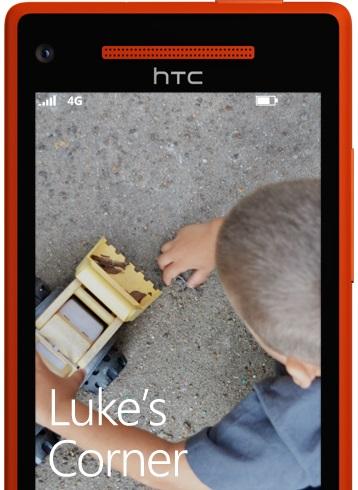 If you want kids to use your phone but don't want them to accidentally start apps which they shouldn't or tweet or share something unusual, then you can enable the Kid's Corner which can be accessed by swiping the left when the screen is locked. This corner will only display apps and features which you have pre-enabled for Kid's corner and make sure that nothing really changes while they use your phone. The menu buttons are also disabled, so kids can only access the apps which they are allowed to.
Data Sense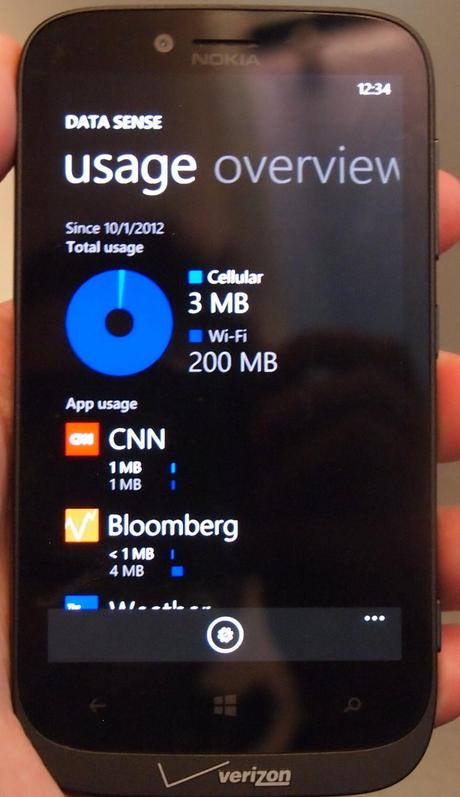 Data sense is a new app to compress Web sites and thus help you compress your data usage to minimal possible extent. It's unique feature being, able to detect Wi-Fi around you and hop to that network instead of choking your cellular usage. The app stores all the information of data you consumed, saved and used for advanced users. Microsoft claims with Data Sense you can practically save 45% of your data usage from the same data plan. But this feature being a carrier feature, Data Sense will be rolled out with all possible carriers soon.
Internet Explorer 10 – IE 10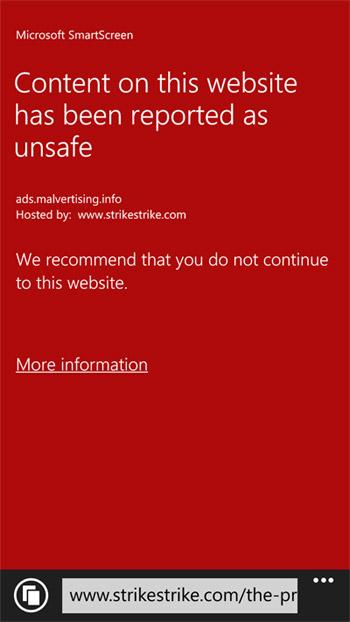 The mighty old Internet Explorer has been updated to IE10, which is faster, responsive and comes with a built-in malware detector making your online presence secure. With the kernel from Windows 8, IE10 on WP8 surely looks very fast.
Cloud Sync via Skydrive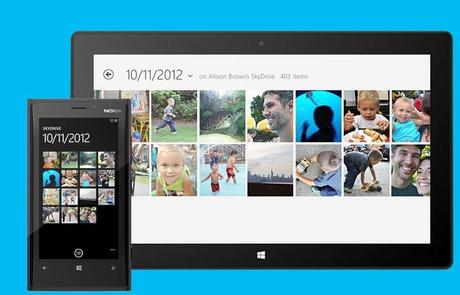 One of the best feature of Windows Phone is the office features it comes with. WP8 comes with a robust integration of Office Apps which can be synced in cloud for easy access on your Surface or desktop or even web view. All these files can be synced to your own Skydrive account which provides 7GB of free data space to save files and all the content. Skydrive even can sync all your clicked photos instantly without altering its resolution. And none of the photos will be deleted unlike Apple's iCloud.
Rooms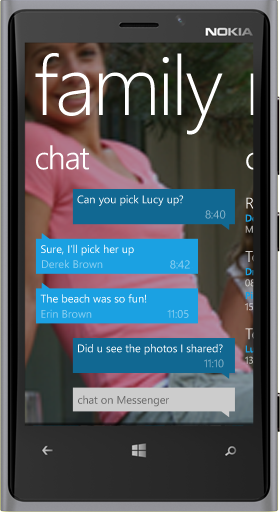 Rooms is a new feature in the People Hub which features shared calendar, photos, videos and notes with users you want from your contacts. Microsoft has plans to let Android and iOS users too get access to these shared files in the Rooms which supposedly would be synced with their live/hotmail accounts.
Wallet, NFC & Enhanced Windows phone Marketpace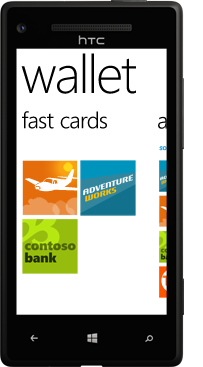 Microsoft Appstore is updated and has some new categories for apps. Also developers could now add in-app purchases to their apps. The new marketplace even recommends your apps by the type of apps you are running on your device.
The Wallet is exactly as it sounds, stores all your credit-card information as well as PayPal account information in your phone. With the right use of API by the developers, they can make payments with this information instead of using your physical cards.
Along with that comes the Payments via NFC. Microsoft is yet to announce the stores and partners which accept payments via NFC.
Nokia Maps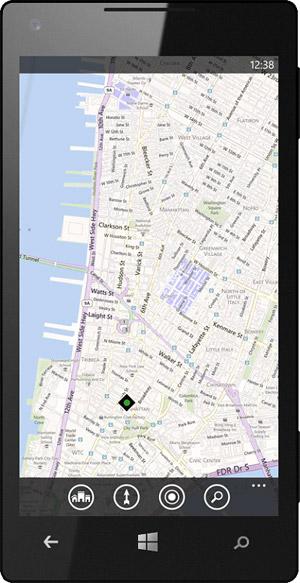 WP8 would now have Nokia maps instead of the Bing Maps. All he devices would be pre-loaded with Nokia's navigation apps. On non-Nokia devices those apps would be named just 'Maps' which Nokia devices would display it as 'Nokia Maps'. You can download offline maps if you want. And we all know how important and less entertained that feature is.
OTA Updates, Windows 8 Windows Phone App & Voice Features
All the eligible devices for an upgrade can now upgrade their devices over-the-air. This means no more plugging in your device and wait till it updates, you can update via Wi-Fi directly from the device itself.
Zune Sync is gone, welcome Windows Phone App. You can sync you content to your WP8 device via this App. This app is made for Windows 8 as well as Windows 7.
You don't necessarily need to use the app to sync music or add documents to your Windows Phone 8 handset anymore. You can simply head over to File Explorer and access the contents of your smartphone like a USB drive. Even data from your iTunes can directly be added to this App.
Windows Phone 7.8
Windows phone 7.5 users would have to wait a bit more. Microsoft hasn't announced anything about the ever-so-talked Windows Phone 7.8 update. WP7.8 most probably would be released after WP8.
Enjoy some Windows Phone 8 videos :
Meet Steve
Windows Phone 8 video by Joe Belfiore
With all these demo videos by Steve Ballmer, Joe Belfiore and even Jessica Alba at the event, it is pretty sure what Windows Phone 8 wants to promote is the extent to which the smartphone can be personalized person to person.
They clearly want to say how the phones should look different as compared to all the iOS and Android devices which look the same.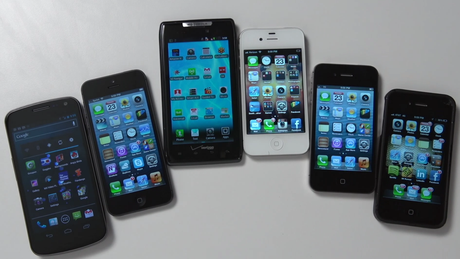 With varied interests and diverse lifestyle each individual is different and its time our smartphone understands that too.