I believe in the "Law of Love" and the Law of Attraction", unfortunately sometimes I forget to apply in it various spheres of my life. My skin is one such department that received no love from me for the longest time, forget love, it barely ever received any attention from me. The few occasions that I did stop to notice my skin, it only received loath from me - the pigmentation, the breakouts, that's all I could see and notice. Needless to say that is what I got more and more of in return from my skin.
This continued till I  met

Nisha Rajpal

, who simplified skincare for me and made it super convenient. She convinced me that beautiful skin is not time and effort indulgent, but we often tend to make it so.
So I set out on a mission to start loving the skin I am in. I needed a skincare regime that make my skin feel nourished and loved without making it seem like hard-work to me.
Here is the routine I started following..
I try and stick to natural products as far as possible, since that seems like the better way of doing it, to me atleast.
I will be honest, initially fitting this new ritual into my schedule was a little tough, I had plenty of excuses always ready. But I pushed along and within a few days this new routine fit snugly and comfortably into my everyday routine.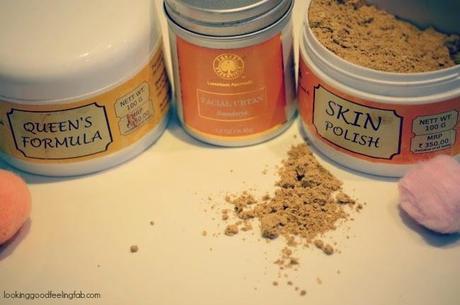 It literally takes 5 minutes and leaves the skin feeling happy for the rest of the day.
I dont know if doing this has helped my skin drastically or if it is just a placebo effect, but irrespective, my skin feels loved and I feel loved in return. Like my mother-in-law says "often with things and hair, the love you give it in your younger years start bearing fruit when you turn 40 and 50".
The younger lot might not understand it but the thrill of hearing "OMG you don't look 30/40/50 at all" is just something else. So make that investment into your skin, create a skincare routine that works for you, eat a

healthy diet

and don't forget to tell me all about it.want to look good and feel fab always?? Join us lookingoodfeelingfab.blogspot.in