Fall has settled on Seoul. November is here, the hot days of summer are forgotten and the freezing days of winter are fast-approaching. Fall doesn't just bring a change in the weather here in Seoul, but brings one of my favorite festivals, the Seoul Lantern Festival.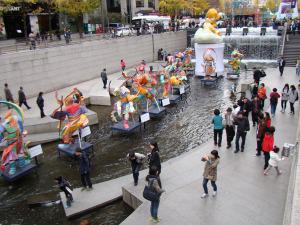 The popular Cheonggye stream in downtown Seoul is transformed into a watery stage for about 30, 000 lanterns.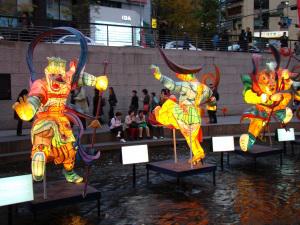 The lanterns are lit up daily from 5:00 pm to 11:00 pm. Citizens of Seoul and tourists alike can come and see the well-designed lanterns for free.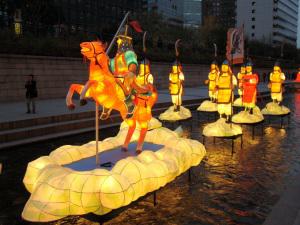 Some of the lanterns are placed in groups to form various scenes depicting Korea's rich history.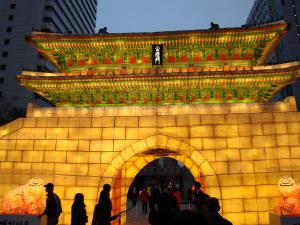 Some of the lanterns are replicas of Korean landmarks. This is a lantern showing Seoul's Namdaemun gate. The original gate was completed in 1398 and is currently being repaired after an act of arson in 2008.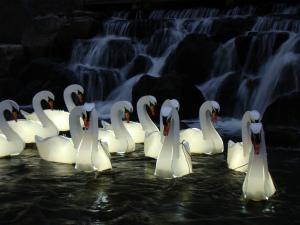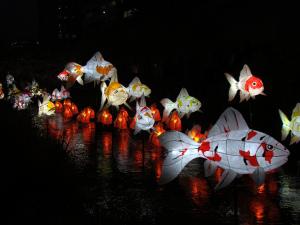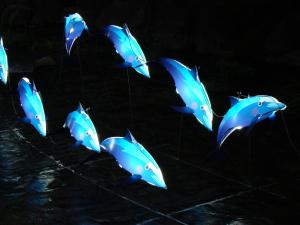 Other lanterns make groups of animals appear to be swimming in or on the stream.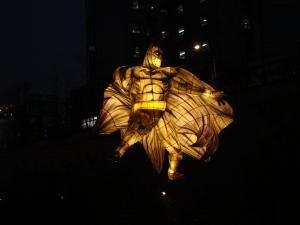 Towards the end of the parade of floating lanterns, are lanterns for the young and the young at heart. There are popular Korean cartoon characters and the superheroes we all love like Superman and Batman.
Fall in Seoul brings a change in temperature and beings out your warmer clothing, but it also brings the beautiful and creative Lantern Festival. The festival has lanterns for all ages, is it a popular location and the best part is it's…free!
Looking for more photos? Click here.