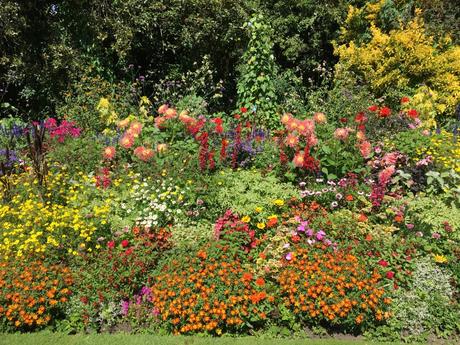 Summer flowers, St James' Park
I am sitting down to write this whilst looking out at blue skies and hearing the usual hubbub of a London summer on the street below my flat. Several groups of friends are sitting outside the pub at the end of the road, watching the Olympics in the sunshine. Kids are playing football. Dog walkers are stopping for a chat. People laden with shopping are meandering their way home from the supermarket. It's been a long year and a half, but it feels like things are finally almost back to how they used to be.
But going back to how things were is not always something that's possible, or desirable, after a period of change. For me, the pandemic has permanently altered my relationship with myself and the world around me, and I'm no longer the same person I was a year and a half ago. I don't want to go back to who I was or what I was doing before. Seeing the world fall apart around me made me realize that nothing is certain and that nothing can be taken for granted. I had my eyes opened to the fact that I had been coasting along for years, putting off pursuing many of my dreams and desires until a later date, waiting for this, or that, before I would give myself permission to disrupt my life. When the pandemic came and disrupted it instead, I gradually came to see this as an opportunity rather than a disaster; the impetus to start treading a different path.
I'd been struggling with ennui for a long time before coronavirus hit, but I wasn't unhappy enough to really change anything. I had no real reason to complain; I know that I'm enormously privileged. I have wonderful friends and family, a lovely home, a good job, plenty of hobbies and more than enough money to meet my needs. I also live in one of the most exciting and dynamic cities in the world. But still, deep down, I wasn't happy. My work no longer satisfied me; with more responsibility came less time in the classroom, and with my mind always full of school related problems, headspace for anything else was frustratingly limited. I felt that my work was creeping into every area of my life, leaving me with no space for myself and no outlet for any kind of creativity. I was always tired, always grumpy, always waiting for the next holiday when I'd finally have time to read a book, or catch up with a friend, or leave London for the weekend. I kept going, partly because I loved my students so much that I couldn't bear to leave them, but also because I didn't know what else I could do. The question haunted me constantly. Teaching had become so central to my identity, that I couldn't imagine myself as anything else. I felt utterly trapped.
While teaching from home last year, however, my thinking started to shift. Not being in a school building all day helped me to start seeing myself as separate from my work. Rather than being tired all the time due to the non stop nature of the school day, I was invigorated by having time to work in peace and quiet, time to read and reflect, and time to be creative. I went back to writing regularly; something I had given up years ago. I began reading more widely and experimentally. I walked the streets of London for hours, really paying attention to what I was looking at, and being amazed at how much I've been missing. I engaged with political causes I'd long been passionate about, but not had time to properly research or pursue. I realised that there was so much more to me, and so much more to my life, than teaching.
Going back to work in September was initially exciting, after so long away, but soon the ennui crept back in. Coupled with everything the pandemic was throwing at us inside and outside of school, I felt myself slipping away. Every morning it became more difficult to drag myself out of bed. I was utterly exhausted from putting on a cheerful, enthusiastic persona for the children and my colleagues all day, desperate for them not to see how unhappy I was. As soon as I got home, I crumbled. I could barely muster the energy to cook dinner. When we locked down again in January, I cried with relief at being able to stay at home for another few weeks. It was at that moment that I truly acknowledged that teaching – the career I had always seen as my labor of love – was destroying me.
So, three weeks ago, after nine years of teaching, I said goodbye to my beloved pupils and closed the door of my classroom for the last time. Mingled with the sadness – and there was plenty of that, and plenty of tears, too – was also profound relief at being free to tread a new path.
I'm going back to university full time in September, to do an MA in Playwriting. I don't know where it will lead me, or even if I'll be any good at it, but I don't care; I'm doing it because it's what I love doing, and I want to spend all my time doing it. I'm giving myself permission to just enjoy myself, experimenting and learning and being creative for a year, and to be open to whatever opportunities and possibilities come my way. It's what I need, at this point in my life; I am giving myself the gift of time and space to write, because without that, I now understand that I can't be happy.
I know the pandemic is far from over. But today, at least, the sun is shining, there is music playing in a distant garden, I can smell the sweet smoke from next door's BBQ, and there's a new book waiting for me to curl up and read. For the first time in a long time, life feels good again.