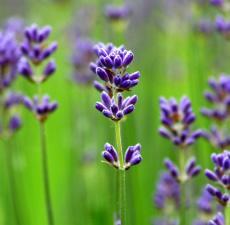 Lavender is one of my favorite essential oils. Not only because of its hundreds of uses, but because of it's lovely fresh scent and calming properties.
It is the one essential oil that every aromatherapist becomes familiar with first – even the man that coined the phrase "aromatherapy" became interested in essential oils because of lavender's healing ability for burns. In 1928 the French chemist, Gattefosse, accidentally discovered that the use of Lavender healed a severe burn on his hand without scarring.
Some of the best lavender essential oils on the market today come from the farmers themselves who grow, harvest, distill, and sell their own varieties.
RivendellAromatics.com -

Nestled in the protected Casitas Pass Valley near Santa Barbara, their Lavender fields

grow in the bright sunshine while cooled by ocean breezes. This combination of hot sun and cool air produces a very fragrant flower on a vigorous healthy plant. Their plants are grown without chemicals and  products are made by hand here on the farm.

Pelindaba Lavender Farms on San Juan Island, Washington, organic farmers of lavender flowers, distillers of essential oil, and handcrafters of lavender based.
And here are even more:
Global Farms | YoungLiving.com – Young Living Essential Oils
http://www.youngliving.com
›
Young Living
› Company,
The Young Living farms and distilleries is one of the only American-owned lavender farm in the country. Buy Young Living Lavender oil from a good friend of mine (who happens to be a distributor; see her FB page here and message her for more info.)
Lavender Essential Oil – Central Coast Lavender
https://www.centralcoastlavender.com/blog/
Contact us at: 1-888-233-3288 …  Central Coast Lavender's pure organic Lavender Essential Oils are of the highest Therapeutic Grade.
http://www.pelindabalavender.com/
Pelindaba Lavender Farms on San Juan Island, Washington, organic farmers of lavender flowers, distillers of essential oil, and handcrafters of … This vertically integrated model of sustainable agriculture enables us to preserve the farmland …
Products – The Farm – The Stores – Map and Directions
http://www.libertynatural.com/
The largest wholesale selection of essential oils offered anywhere. … The Essential OIl Source. … Liberty Natural Products is a grower, importer and wholesale distributor of over … Join us here at our annual lavender festival each summer …
Essential Oils – Product Menu – Contact – Botanical Ingredients
http://www.tumalolavender.com/
Lavender hydrosol wholesale suppliers, distillers and growers, Tumalo Lavender … Our organically grown lavender essential oils, live plants and products … visit ahead of time by calling 541-419-9449 or email us at [email protected].
Commercial Lavender Farming – Alpacas – the essential blog for …
http://www.mulberryalpacas.com/…/1003-Commercial-Lavender-Fa…;
Jul 24, 2008 – It is highly unlikely that most U.S. lavender producers can compete in the wholesale essential oil business with producers in some other parts of …
Everything-Lavender – LAVENDER FARM LIST – 50 STATES OF …
everything-lavender.com/lavender-farms.html
Welcome to our U.S. Lavender Farm Directory where you will find information and … We list Lavender farms and Commercial Lavender growers in the United States and International Lavender Farms (bottom.) …. Lavender essential oil diffuser …
Lavender Valley – Hood River, Oregon – Lavender Products
http://www.lavendervalley.com/products.htmShare
Lavender Farmers Hand Salve … The pure lavender essential oil distilled at our farm brings a delicate scent as well as leaving your skin soft and velvety.
Lavender Oil is the most dominant oil in perfumes. It can also be used for skin conditioners, body lotions, bath soaps, shampoos, candles, deodorizers, laundry soaps and household cleansers. A wide array of far-reaching claims about the benefits of lavender include that it reduces dandruff when used in shampoos, calms and soothes the skin and balances oil production, helps heal blemishes and stimulate the circulation to the skin, reduces acne and eczema, heals burns and sunburn, and alleviate the effects of bee stings (and insect bites). It is known to have mild antiseptic and antibiotic properties that can kill bacteria. Lavender is a natural insect repellent for fleas and flies. Some claim that Lavender can suppress sprouting in potatoes, and that the fragrance of Lavender is calming to horses (and other animals). Some equestrians spray Lavender scented water directly on their horses to obtain this calming and balancing effect. Essential oil of lavender is even used as flavoring for various foods, including beverages, ice-cream, candy, baked goods and chewing gum. Lavender honey is gathered from bees that feed on blooming Lavender.

Some of the 'medicinal' benefits of lavender are that it calms the nerves, balances emotions, prevents insomnia and alleviates fear and irritability and stress. It is thought that it clears the thinking and strengthens the nervous system and that it benefits those who suffer from hyperglycemia, hypertension, indigestion, arteriosclerosis, digestive complaints, kidney stones, fragile capillaries, anemia and heartburn. It is also effective in reducing caffeine-induced hyper-activity, in relieving headaches, in promoting deeper and longer sleep and in alleviating motion sickness. 

LAVENDER
First on the list is one of the most widely versatile essential oils of all time, lovely lavender.
Botanical Name: Lavandula angustifolia
Plant Part: Flowers
Extraction Method: Steam Distillation
Origin: France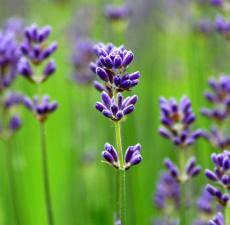 Description: Lavender Population is an evergreen woody shrub, up to 1 meter tall, with pale green, narrow linear leaves and violet blue flowers.
Color: Pale yellow to yellow liquid.
Common Uses: Properties of Lavender Bulgarian Essential Oil include analgesic, anti-convulsive, anti-depressant, anti-phlogistic, antirheumatic, antseptic, antispasmodic, antiviral, bactericide, carminative, cholagogue, cicatrisant, cordial, cytophylactic, decongestant, deodorant, and as a diuretic. This lavender is grown at a high pristine elevation over 3,500 feet, creating a highly exotic and complex lavender oil. Mellowed by the long daylight hours in high latitude, moderate rainfall and sandy soil, this lavender rivals the best of the world's great lavenders. Herbalist regards Lavender as the most useful and versatile essential oil for therapeutic purposes. Lavender is the essential oil most commonly associated with burns and healing of the skin. It also has antiseptic and analgesic properties that will ease the pain of a burn and prevent infection.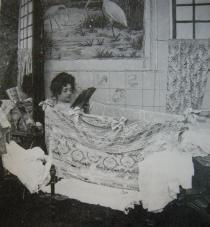 take a bath with essential oils…
It also has cytophylactic properties that promote rapid healing and help reduce scarring. The scent of Lavender is said to have a calming effect on the body and it can be used to reduce anxiety, stress and promote sleep.
Consistency: Thin
Note: Top
Strength of Aroma: Strong
Blends well with: Bay, Bergamot, Chamomile, Citronella, Clary Sage, Geranium, Jasmine,
Lemon, Mandarin, Orange, Palmarosa, Patchouli, Pine, Tangerine, Thyme, Rosemary, Rosewood
and Ylang-ylang.
Aromatic Scent: Lavender Population Essential Oil has a sweet, green scent that speaks well of therapy.
History: Lavender is adapted to living in a dry climate and is native to the western half of the
Mediterranean, reaching altitudes of up to 1800 meters. It is believed that the Romans and the Benedictine monks subsequently introduced it to rest of Europe.
Cautions: Lavender Population Essential Oil is non-toxic, non-irritating and non-sensitizing.
_________________________________
RECIPES and MORE Lavender!
Cleansing Hand Moisturizer
Makes: 2 oz. plastic spray bottle of hand cleanser and moisturizer
Ingredients:
2 oz. organic aloe vera gel
20 drops Lavender essential oil
Tools: 2 oz. PET plastic spray bottle
Directions: Add the aloe vera to the spray bottle then add the drops of lavender essential oil.
Shake to mix.
Notes: Spray each hand three or four times. Rub briskly until the liquid dries. Keep near your keyboard, in your car or in your bag to use frequently and eliminate germs.
yellowstar
essential
s.wordpress.com/…/
essential
-
oils
-for-allergy…
Feb 21, 2011 – Lavender is another essential oil found effective in treating eczema. …. Immune Boosting Essential Oils, Allergen Home Spray Recipe, and more…
yellowstar
essential
s.wordpress.com/…/
essential
-
oils
-for-menop…
Apr 3, 2010 – Several essential oils that contain hormonelike substances related to … Another option for hot flashes is to have a bottle of lavender essential oil with you ….. Immune Boosting Essential Oils, Allergen Home Spray Recipe, and more…