I am completely in love with all of the beautiful paper products inspired by the magical world of Alice in Wonderland. There are just so many incredibly talented artists out there! I hope you enjoy this round-up as much as I enjoyed researching it!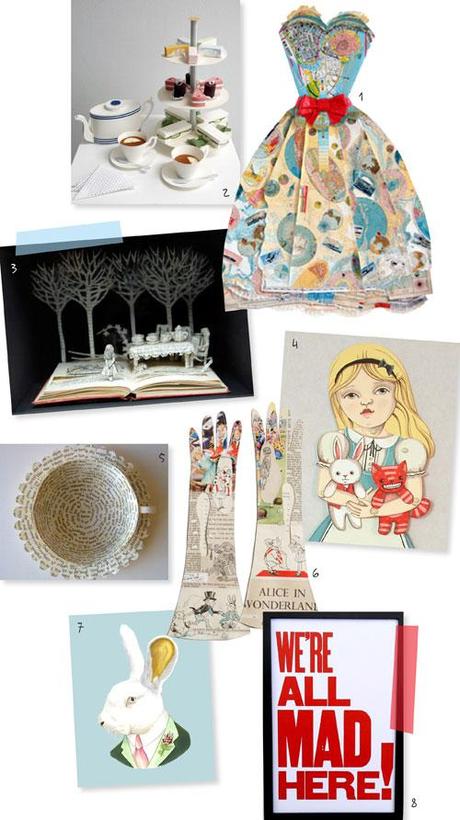 1 "Global affair" collage by Peter Clark | www.peterclarkcollage.com
2 "High Tea" paper sculpture by Benja Harney | www.paperform.wordpress.com
3 "Alice, A Mad Tea Party" book sculpture by Su Blackwell | www.sublackwell.co.uk
4 Alice in Wonderland DIY paper doll | www.etsy.com/shop/cartbeforethehorse
5 Paper cup and saucer by Cecilia Levy | www.cecilialevy.com
6 "Alice Kid Gloves" by Jennifer Collier | www.jennifercollier.co.uk
7 "White Rabbit" print | www.etsy.com/shop/berkleyillustration
8 "We're All Mad Here" poster | www.etsy.com/shop/happydeliveries
Shannon x
Shannon Morton has spent the last 15 years working in the publishing industry and has been the Art Director of many magazines including Donna Hay magazine in Australia and Livingetc magazine in the UK. She now runs her own graphic design company and enjoys creating lovely things for people and their businesses.
Visit Shannon at www.shannonmorton.com and  www.ohhowverylovely.blogspot.com.