It's here!
We were teased during the Toronto International Film Festival that Alexander Skarsgård and the directors from What Maisie Knew, Scott McGehee and David Siegel, sat down for an interview with DP/30.
Finally our wait is over, as the video is now live online! Its 30 minutes long so make sure you are in a nice secure location so you can savor the video. I predict you will go "Aww", laugh quite a bit, and just enjoy the interview. I know I did.
Check it out below
So… count with me, how many Skars types did you see in this interview.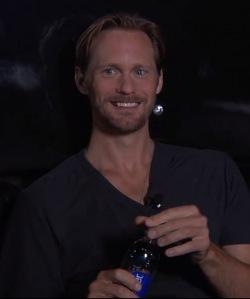 Analytical Skars when discussing his performance and the movie.
Funny Skars with his facial expressions and one liners.
Sexy Skars … just being him.
Playful Skars when mentions of his other roles were brought up. Oh Zoolander.. we thank you so much as you helped land Alex the role of Lincoln. And Kill Your Darlings, you proved that Alex walks better then some of us in heels.
I know there are more.. but I have the sudden urge to pull out one of my Skarsgård dvds
I hope you've enjoyed this video as much as I did.  Let us know!
Thank you to Skarsgardnews for the find!