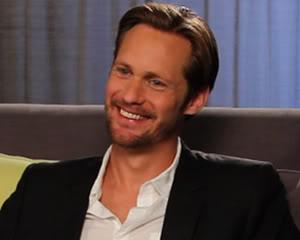 "True Blood" star Alexander Skarsgard, Frank Grillo, Colin Ford and Swedish thesp Michael Nyqvist are attached to star in Henry Alex Rubin's indie drama "Disconnect," while Andrea Riseborough is also circling one of the lead roles.
Rubin, who previously directed the award-winning documentary "Murderball," makes his feature directorial debut with the film. Andrew Stern ("Return to Me") wrote the script, which follows a large ensemble of characters who are affected — and in some cases destroyed — by the Internet and other forms of modern communication.
Skarsgard will play a former Marine who's struggling to make ends meet and is emotionally cut off from his wife, prompting him to seek an affair.
Grillo is in line to play a single father and computer safety expert who's overprotective of his 15-year-old son and wants to keep him away from the dangers of the online world.
Ford would play Grillo's son, a skater who deals with his own emotional pain by chatting online with a troubled teen under the guise of being an interested teen girl.
Nyqvist will play a man who Skarsgard and his wife suspect of stealing their identity.
Riseborough is being eyed for the role of an ambitious TV reporter who, frustrated by her lightweight stories, pursues a story about a young male model who poses nude online.
Liddell Entertainment's Mickey Liddell is producing with William Horberg and Jennifer Hilton. Pic, which is budgeted at $8-10 million, is slated to start production next month in Gotham.
Skarsgard next stars in Rod Lurie's "Straw Dogs," Lars von Trier's "Melancholia" and Peter Berg's "Battleship."
Grillo, who just booked roles in "The Gangster Squad" and "End of Watch," will soon be seen in Gavin O'Connor's MMA movie "Warrior," Joe Carnahan's survival pic "The Grey" and Stephen Frears' "Lay the Favorite."
Ford, who has a recurring role on the CW's "Supernatural," next stars as Matt Damon's son in Cameron Crowe's "We Bought a Zoo."
Nyqvist starred in the original "Girl With the Dragon Tattoo" and will soon be seen opposite Taylor Lautner in Lionsgate's "Abduction" and Tom Cruise in Paramount's "Mission: Impossible — Ghost Protocol."
Riseborough toplines Madonna's "W.E." and also stars opposite Sam Riley in Rowan Joffe's "Brighton Rock" with Sam Riley.
Source
SkarsgardNews.com has confirmed this to be a "go"!
Thoughts? Share them below!