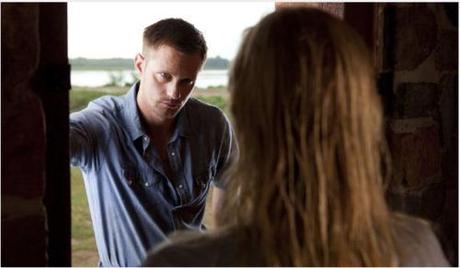 Image courtesy of Straw Dogs
Alexander Skarsgård is busy promoting his new movie, Straw Dogs! He was recently interviewed by On The Red Carpet and ExtraTV! We thought you might enjoy watching and hearing what he had to say about his role!
You can watch both videos below!
This first one is from On The Red Carpet – where he shares how he tried to make Charlie Venner likeable!
"It was important to make this guy three-dimensional and real. I don't know if 'likeable' is the right word but at least in the beginning of the movie, it was important that you understand him because that makes it real," Skarsgard told OnTheRedCarpet.com and other press outlets in a satellite interview.

"To play a character who's just evil … I wanted the audience to be able to connect with the guy and understand him and I thought it would be more interesting for the audience if they were kind of on the fence at the beginning at least – 'Should Amy, his ex-girlfriend go back to him or should she stay with David, her new husband?' It made it more interesting than good guy, good girl, bad guy," Skarsgard continued. "Those movies don't really work for me and I think we all didn't want it to be one of those movies.

"Vanity is always dangerous for an actor," Skarsgard said. "For Charlie, I wanted to gain weight because he's an old football player and I wanted to be bigger than I was at the time. The day you're motivated by, like, going to the gym because you're in a tank top, then you're in trouble as an actor, I think.""
Watch Alex's interview here: On The Red Carpet
Alex revealed to ExtraTV that he found it interesting that Straw Dogs filmed where True Blood is set – in Shreveport, LA. Plus, a whole lot more…including Stephen Moyer's plans to put a camera down Alex's "pants" (so to speak) while filming Eric and Sookie love scenes!
Watch this interview below!

Did you see Alex blushing while discussing his "Gracious Plenty"? LMAO!
What are your thoughts? Share them below!