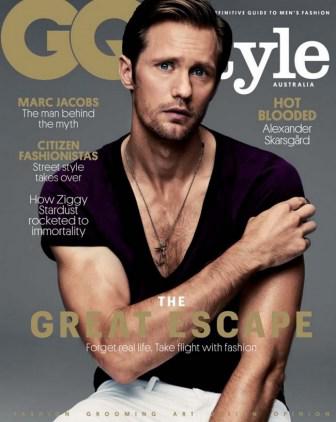 You better have a bib handy…we have some Skarsporn to share with you!
Alexander Skarsgård is featured in Australia's GQStyle's spring/summer 2012/2013 magazine issue! Below is a portion of the article, as well as some drool-worthy images for you to study!
Let's get the reading out of the way first.

  Alex talks about his life in the military and how it has impacted his life.
"This was supposed to be my day off."

That's Alexander Skarsgård speaking. And while we respect his need to unplug, it's hard to sympathise with the guy given that he's staring at himself in the mirror as a gorgeous woman massages his bronzed arms with moisturiser. Things could be worse.

This is kind of what Skarsgård's life is like these days — mostly work, a little bit of play. In the last month (in no particular order) he's been named the face of Encounter, Calvin Klein's latest cologne that's available here October 28, wrapped production on the fifth season of True Blood, taken a 13-hour flight to Sweden to visit family — for the weekend — and prepped for his next project, Hidden, a thriller set almost entirely in an underground bunker. If Hollywood's welcomed him with open arms and thick pay-cheques it's for good reason. Skarsgård, 36, is that rare thing: a walking Ken doll with the chops to impress art-house directors like Lars von Trier, but also the Alpha Male presence needed to float action flicks like Battleship (for the record, more watchable than you've heard).

Excitement levels are so high that at a recent appearance at Comic-Con, the annual confab for sci-fi geeks held in southern California, presidential-grade security measures were needed to protect Skarsgård and the rest of his undead cast. "There was a motorcade from the hotel in through the garage and up into the building," he says. Some 5000 fans waited inside. What did it sound like when he stepped out on that stage?

"Deafening," says Skarsgård, smiling.

And to think there was a time when he didn't want this life.

In a roundabout way, Alexander Skarsgård was born into the business. The son of Stellan Skarsgård, the noted Swedish actor (great in everything from Mamma Mia! to The Girl With the Dragon Tattoo), he was Hollywood by way of south Stockholm. "Most of my dad's friends were actors, directors, artists, musicians," he says, and he was raised in a bohemian paradise of late nights, exceptional food and adult conversation. "It was artistic and lovely," he adds. At age 13, one of those friends cast him in a home-grown TV production, The Dog That Smiles, which made Skarsgård an overnight star. The experience of being recognised on the streets was curious, if also deeply unsettling, and sent him running in the opposite direction. It would be seven years before he stepped in front of a camera again, choosing instead to shave his head and enlist in the Swedish navy.

"I went all-in," Skarsgård says of his military experience. "I needed the contrast." If you're envisioning a pampered tour of duty (barracks furnished by Ikea, perhaps?) guess again. He worked in a counterintelligence group and recalls a particularly harrowing exercise. "We were out in the woods in the middle of the winter for 10 days. We didn't really have any food or any sleep. It got to a point where people started to hallucinate and, you know, talk to their weapons. And cry." The six-foot-four actor takes a beat to ruminate on the fear that coursed through his veins. "There was a moment where you're, like, 'I'm gonna die in five minutes.'"

Skarsgård, a sergeant, was charged with motivating his men — while desperately trying to keep it together himself. (It turns out that steely calm he displays on True Blood was hard earned.) The adventure was an initiation as much as it was a hazing. "If you survive," he explains, "you're a part of this community. It's a big deal."

It was also unrelenting. "We were freezing cold and so tired and hungry. We came back to the barracks after 10 days and the captain said, 'Now you're gonna go out and run 20 miles [32 km] — with your backpacks.' People fucking lost it." Bone-tired and angry, Skarsgård and his men sucked it up and set out nonetheless. "We thought we'd be out there for another 24 hours," he says. Instead, only two or three miles into the woods, their captain revealed his ruse. They were awarded with the hats from their new military uniforms and welcomed into the fold. "People were dancing back to the barracks," he recalls.

That extreme deprivation was not insignificant. What he discovered, in a profound, deeply atavistic sense, was how to be a man. "You learn there's actually a reserve," he says. "There's more you can take."

The lesson would serve Skarsgård well in Hollywood, a town fueled by rejection and disappointment. While his father never pushed him to act, it was in his blood. After 18 months in the service, Alexander made his way to New York and enrolled in a university acting class. The course lasted just six months, but it affirmed his desire to give acting a proper shot. He wouldn't let his career peak at the age of 13.

Good roles came in Sweden while he made do with whatever Hollywood offered up — notably, a part as Meekus, a dim-witted male model in Ben Stiller's Zoolander. (Memorable line: "Like, ex-squeeze me, but have you ever heard of styling gel?") Still, the cameo was enough encouragement for him to move to Los Angeles. Once again, it was time to go "all-in".
Want to read more? You can read the full article and see the full photo shoot in GQStyle's spring/summer 2012/13 issue, on sale Monday 3 September.
Photographer: Steven Pan
Don't be a fool…be ready to drool!  Feel free to gaze at the yummy Skarsporn below!






Source: GQ.com.au
Thoughts? Feel free to drool below!