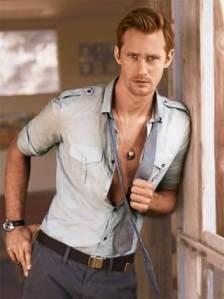 Elle.com have released a short, but very sweet, interview with Alexander Skarsgard today. Whilst somewhere in Sweden a woman called Elin is probably kicking herself very hard right now, I suspect after reading this article there will be quite a few (thousand) woman who will run to the nearest note-pad and scribble themselves a "do you want to be my boyfriend" note!
In the past year, Alexander Skarsgård has been linked to a racy film adaptation of 50 Shades of Grey, a Tarzan reboot, and the actress Charlize Theron. All appear to be rumors, but when you're a 6'4″ Swede famous for playing the 1,000-year-old, slightly demented yet nurturing vampire Eric Northman on HBO's hit series True Blood, people expect you to run around in a loincloth and have a sex dungeon. But Skarsgård, son of Mamma Mia!'s Stellan Skarsgård, has a simpler story: After a brush with fame as a child actor, he ran the other way, enlisting in Sweden's Marine Corps and working in intelligence. Still, a leopard can't change its spots—or whatever the equivalent Swedish expression is—and Skarsgård eventually invaded Hollywood, stealing scene after scene from under his costars' fangs. (He became an attention magnet offscreen, too, thanks to his two-year romance with Kate Bosworth.) This month, Skarsgård, 36, reminds us he's more than eye candy, with Disconnect, a serious—and seriously good—drama about the ways in which technology can make us feel even lonelier.

ELLE: Who was your childhood crush?

Alexander Skarsgård: I saw Tootsie with Jessica Lange when I was eight or nine. I remember feeling something in my stomach. [Laughs] I didn't know what it was, but I wanted to watch that movie over and over again.

ELLE: I read that you were insecure as a kid. I find that hard to believe.

AS: I was very insecure—especially when it came to girls. When I was nine, there was this girl, Elin, in my class who I was in love with. I didn't know how to approach her. We did this thing in Sweden, at least when I was a kid, where people write notes, like, "Do you want to be my girlfriend?" followed by three boxes: Yes, No, Maybe.

ELLE: So you wrote her a note?

AS: I would never write her a note! That would take some balls. But one day after school, I found a note from her in my pocket saying, "Do you want to be my boyfriend?" I was so happy. I couldn't sleep all night. The next morning, my buddy started laughing, and I realized he wrote the note. That kind of messed up my confidence when it came to girls.

ELLE: You grew up in a very bohemian household, with your dad's friends around all the time. I imagine you learned quite a lot about women.

AS: I was raised by this whole community of artists. It was pretty wild. Illegal substances floating around. People were drunk. I was born in the late '70s. There was so much love there.

ELLE: I'm picturing thirtysomething women offering to take your virginity….

AS: [Laughs] No, no, it wasn't like that. The problem was when I got a little older—when I was 12, 13, 14—and bringing girls over after school. Dad was always walking around naked with a glass of red wine in his hand.

ELLE: Wait, what?

AS: That was always the case. He didn't care if there were people he didn't know at the house. My buddies didn't care. They'd seen him naked a million times. But it got a little uncomfortable when you brought a girl over, and dad showed up naked with a glass of wine and tried to give her a hug.

ELLE: I bet. There's a lot of nudity on True Blood. Have you always been comfortable naked?

AS: Culturally, it's a little different. There's such a taboo here with nudity. In some people's eyes, nudity is so much more dangerous than violence. I never really understood that. If a kid sees a nipple on television, how is that more damaging than watching someone bash someone else's head in with a baseball bat?

ELLE: In Disconnect, you make a joke about watching a porn flick called Sperms of Endearment. Was that an ad-lib?

AS: [Laughs] Yeah, it was.

ELLE: Is that a real movie?

AS: I don't know. Unfortunately, I haven't seen it. But I'm very intrigued by it. I definitely want to see it. I've heard it's very good.

ELLE: One of your favorite books is Lolita. What do you remember about the first time you read it?

AS: I was kind of terrified. It was scary and intriguing at the same time.

ELLE: What's the hardest part about dating an actress?

AS: It's tough with your schedule. The flip side is, it's a weird job, and to have someone who knows what you're going through…but it's so much about the individual. It's more complicated than saying, "This is what it's like with an actress."

ELLE: Do you believe there's one person out there for you?

AS: No, I don't think so. When you meet someone, of course you want it to last forever. It'd be very depressing if you didn't feel that way. But things change, and you maybe grow apart. You have to accept that.

ELLE: Your parents divorced after 35 years, but they've remained close. What did you learn from the situation?

AS: Mom called me about six years ago, and she was very sad. She said, "I've been with this guy since I was 18. I had six kids with him. What am I gonna do?" Dad remarried and had another kid with his new wife. But I could see immediately that Mom—it just gave her so much strength, being on her own. She's now taking risks and taking chances and is happier than ever. And Mom and Dad are great friends.

ELLE: Have you received any particularly valuable advice about women?

AS: When my sister Eija was maybe two and a half years old, she and my brother had an argument. Eija couldn't write, so she said, "Dad, write this down: Girls are always right." He taped that up on the kitchen wall. It's still hanging there.

ELLE: Has that advice served you well?

AS: Well, I know better than to argue with Eija.
Source – Elle.com