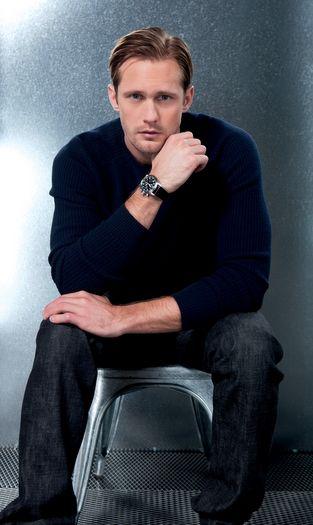 Alexander Skarsgard, Taylor Kitsch and Peter Berg are featured in a Singapore newspaper called, "First" – The New Paper revealed! Complete with a new image of Alex, in which he's looking definitely yummy too! (This new image is the one shown in this post.)
Unfortunately, we have not been able to find this interview in its' entirety, but here's a taste of what the Singapore fans are in for! (You are SO LUCKY!) Hopefully one of our fellow lovers from Singapore can help us out by sharing with us the full interview or some scans of this? (If so, please contact us by using the link at the top of the page. Thanks!)
This is what they said at The New Paper…
At the Tokyo press junket for alien action blockbuster Battleship, FiRST cosies up with comeback kid Taylor Kitsch, Swedish stud muffin Alexander Skarsgard and director Peter Berg.

Kitsch says he feels no pressure for redemption after the US$200 million (S$252 million) dead-in-the-water movie John Carter.

Skarsgard talks about his karaoke night out singing the Titanic theme song and about his dad, Swedish actor Stellan, who was in Mamma Mia.

Berg is impressed by debutante Rihanna's professionalism and says she reminds him of Will Smith.
Knowing what kind of singer Alex is…I'm dying to know how well his 'Titanic' theme song went down? Was he drunk? Did it sound really bad? Of course, he loves to tease his father about Mamma Mia…but how many drunken Alex video clips have WE seen? LMAO And I love how they called him a "Swedish stud muffin"!
Of course, if we find out more – either the scans and/or the interview, we'll be sure to post it ASAP!
Thoughts? Share them below!