Hey Eric & Sookie Lovers!
Okay…the title is a little bit confusing, but it was all we could come up with!

Alexander is featured in the June/July issue of  Interview Magazine – along with a great interview!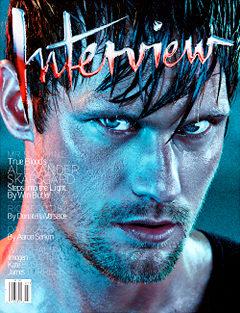 Image: Steven Klein/Interview
This is what he said;
"I do get a lot of scripts sent to me where they basically want me to play Eric from 'True Blood,' but just a different name in a different movie," the actor told his interviewer, Arcade Fire lead singer Win Butler.

"That's not interesting to me. I don't want to play a character that I've played for four years on a television show, change the name, and make him a zombie instead of a vampire."
The roles that ARE interesting to Alex, are those that represent a facet of his own personality.
"In a weird way, I always play myself, just through different mirrors," he said. "If I read a script and I don't connect with a character, if I can't find the character on the page in my soul, then I'm not going to be able to do a good job."
Alex admitted to getting a little creeped out himself when fans – and potential directors – confuse his personality with that of his on-screen character.
"The thing that I feel to be a problem potentially is that you become that character, that in the industry, people associate it too closely with who you are and what you can do," he said.
His "mysterious bad guy" personality has the potential to lock him into some pretty predictable roles, he explained, when it's really nerves that he craves when looking for the next project – well, that and "f–k you money."
"There's got to be something new, something fresh," he said. "I want to almost be intimidated when I embark on a journey. I wouldn't say there's a fear, but I do get slightly nervous in the beginning when that happens, and I like that feeling.

"That triggers me a lot."
What a great interview – it really gives us an idea of what makes him tick!
Here's an image featured in the magazine as well!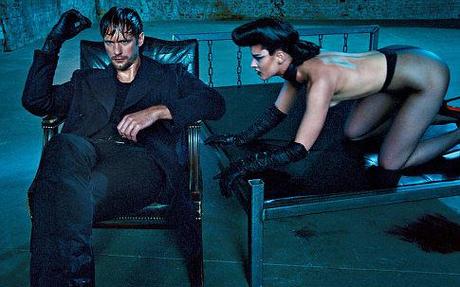 Image: Steven Klein/Interview
Source: www.nydailynews.com
Does this interview trigger you? Who is that woman in the picture with him? Why is he only wearing one glove? Sound off below!
On a more shallow note…he's looking hot, sweaty and mysterious!