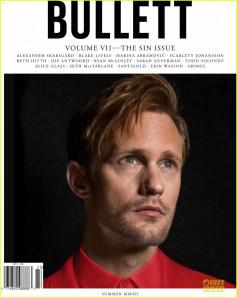 Alexander Skarsgard appears on the cover and inside the summer 2012 issue of Bullett Magazine, aptly titled the "Sin" issue, and today Bullett Media have posted an interview with the viking on their website, as well as some of the pictures taken at  his colorful photo-shoot.
Alex talks about most of his recent and upcoming movie projects as well as True Blood. 
 "Bill and Eric have to set aside their disputes and team up. They bond in the process; they have no choice. There's definitely a bit of a bromance going on there," says Skarsgård, smiling. "It's a little like Butch Cassidy and the Sundance Kid," referring to the Wild West outlaws immortalized on screen by Paul Newman and Robert Redford.
And his new vampire sibling Nora:
"Eric runs into someone very special," says Skarsgård, referring to the new character, Nora (played by British actor Lucy Griffiths), Eric's sister and a member of the Vampire Authority, a council of powerful bloodsuckers who control institutionalized vampire-dom across the globe. "There aren't a lot of human people who Eric really cares about—he's only loyal to a few," Skarsgård says. "We saw his passion with his maker Godric, with Pam, and with Sookie. Nora is definitely just as important; she's played a significant part in his life. She still does."
Alex's East co-star Brit Marling gave an interesting little insight in that particular project.
 The East stars Skarsgård as Benji, the strong- headed leader of a radical environmentalist collective that Marling's character infiltrates. Marling's search for the key part took an unexpected turn when she saw True Blood. "I remember thinking that the show was so fantastical, and yet he made me believe it," she says. "He believes, therefore the audience believes—you find yourself willing to accept these completely preposterous things." She wanted to cast a person who would "make you walk away from your desk job and go into the forest with them to start an insurrection." Needless to say, it's a hard role to pull off. "Alex was so 'it' from the beginning because he has this gravitas, this deep well of soulfulness and feeling. You would follow him into the woods." On the second day of shooting, the cast was naked in frigid water, bathing one another for a scene. "When something like that happens on the second day, it cuts through all the insecurities and everyone gets really close, very quickly. The experience was so raw and intense."
You can read the whole interview at Bullett here
Or if you prefer you can just stare at the extremely pretty pictures.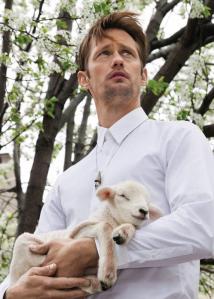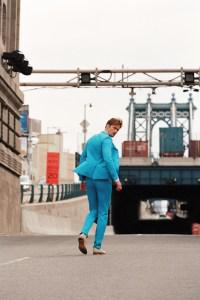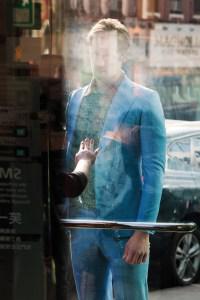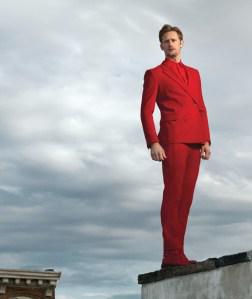 Happy Skarsgazing!
And don't forget tomorrow is the True Blood Season 5 Red Carpet Premiere.  We'll be bringing you all the photos and interviews from the event that really matter!