It's not new and it's not limited edition but this Aldi Choceur Swiss Chocolate Bar caught my eye on a recent visit to the discount supermarket. In the past I've overlooked this bar as being the same as a Toblerone. I'm sure most of us in the UK would associate a Swiss mountain bar with the famous pyramid shaped chocolate.  However since reading The Snack Review's Frey Chocobloc reviews, I could see that this Aldi Swiss Chocolate Bar is much more similar to the Frey Chocobloc.

Rather than having a peaked shape, the Aldi Choceur Swiss Chocolate Bar is flat and rectangular from the top with triangle shaped pieces. It looks just like the Frey Chocobloc and I just love this appearance and shape.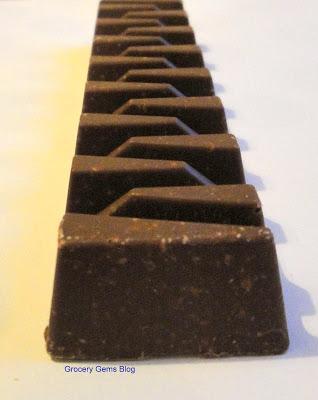 The Aldi Choceur Swiss Chocolate Bar is described as "Premium Swiss Milk Chocolate with Honey & Almond Nougat". The milk chocolate is made with 34% minimum cocoa solids. It certainly has a lovely rich chocolate smell with honey undertones as soon as I unwrapped it. I wasn't sure what to expect from Aldi chocolate but I'm glad to say this was just as good as any Swiss chocolate I have tried, it has a rich nutty flavor and creamy texture which is delicious but quite sweet.

There are lots of nougat pieces, especially along the bottom of the bar. They have a lovely chewy but melt in the mouth texture. It doesn't stick to your teeth or give your jaw a workout. It adds an instant honey flavor and a sweet chewiness but then melts away, leaving the smooth chocolate notes to linger in your mouth.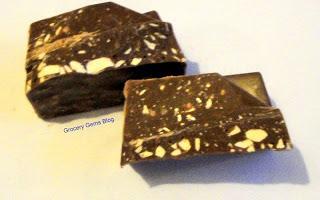 The Choceur Swiss Chocolate Bar weighs in at 100g which is larger than most single bars of chocolate but smaller than a traditional Toblerone bar. It only costs 89p which I think is an absolute bargain. If you're a fan of Swiss chocolate then you have to give it a try. Seeing as the Frey Chocobloc is not available in the UK yet then this is a great alternative.
A few comparative photos of the Aldi Choceur Swiss Chocolate Bar next to the Frey Chocobloc Air (which is much smaller than the standard Chocobloc's and has extra holes!):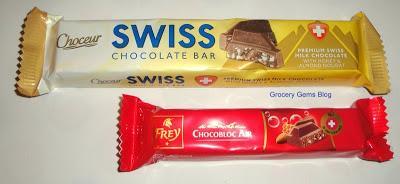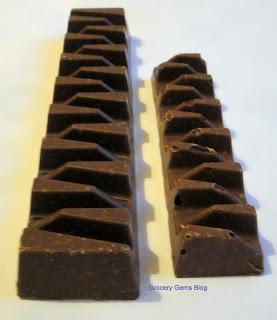 Aldi        Frey
As an aside, this is part of the Choceur range from Aldi. They also have a more "upmarket" range called Moser Roth and a kids range called Dairy Fine. What do you think of the chocolate ranges from Aldi? Let me know if you have any recommendations!