I hate to be the bearer of bad news, but airfare prices are on the rise and they show no sign of dropping down anytime soon. However, if you have your heart set on some spring travel, there are many viable options to choose from, as a few places have seen travel costs decline.
Hotwire
compiled a list of five cities where airfares, hotel rates and car rental costs dropped the most in March, and Albuquerque, New Mexico offers the biggest savings for travelers. Airfares to the city dropped 11% to $330, and car rental rates dipped 46% to $20 a day. It appears that this desert town is a bargain for travelers right now, but is it worth a visit?
Absolutely!
Maybe it's because I'm reading a book written by an author from Albuquerque--and his love and appreciation for the city are certainly endearing--or perhaps its the thought that I have never been to a place that is so close, so cheap and so interesting, but I have an overwhelming desire to go to one of New Mexico's most fascinating cities.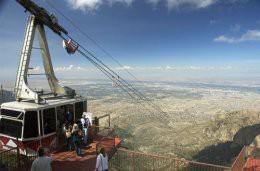 Source: bit.ly via Aaron on Pinterest
Albuquerque was shaped by its deep Native American roots. These people have lived in the area for thousands of years, and helped it grow into the multi-cultural community that it is today. The Pueblo tribe settled along the Rio Grande river, surrounded by rich vegetation and beautiful mountain ranges, in what would one day be known as Albuquerque. After the Spanish explorers settled in the region, it became a center of trade, and eventually established itself as a key stop along the Atchison, Topeka and Santa Fe Railway. The famous Route 66 was rerouted to run directly through Albuquerque in 1937, and came to be known as the "City of Neon," boosting tourism and interest in New Mexico. Throughout the years, the city grew into a high-tech hub after the Kirtland Air Froce Base and Sandia National Labs were established.
Today, Albuquerque flawlessly meshes its high-tech, modern downtown with its native western heritage. This tie to its roots is evident throughout Albuquerque, no matter what you choose to do there.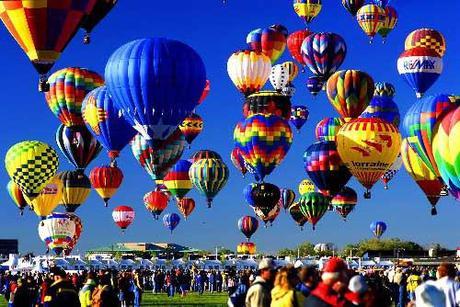 Source: google.com via Jill on Pinterest
One of the most appealing aspects of the city is its rugged terrain and scenic views, which can be seen from the Sandia Mountains or the Sandia Peak Aerial Tramway. You can also hop on a hot-air balloon ride--Albuquerque is known for them--that will take you over the Rio Grande Valley. The area boasts dozens of hiking and biking trails, so if you like the outdoors, this is perfect for you. I for one love to get
out and explore when I visit a new city, and I also love being able to get a good workout in while on vacation. So going for a hike in the mountains is the perfect way to see the sites and get in my cardio.
Other attractions vary from the National Hispanic Cultural Center, the Museum of Art and History, the National Museum of Nuclear Science & History, the Petroglyph National Monument, and the Anderson-Abruzzo Albuquerque International Balloon Museum. 
Historic Old Town
should certainly not be missed. It is the gem of the city, with beautiful gardens and serene paths that lead you to an eclectic collection of boutique shops selling items that are distinctly Southwestern. While there, venture over to San Felipe de Neri Church, the oldest building in the city.
One thing I cetainly enjoy doing when on vacation is sampling the local fare, and Albuquerque has a lot of distinct flavors that set it apart. The Southwestern cuisine is unique in that it combines Native American, Mexican and Spanish ingredients and cooking techniques. And the main ingredient is the chile pepper. Green chile is served over everything from burritos and relienos to cheeseburgers and stew. Red chile can come atop tamales, enchiladas or omelets.
And here's a little piece of information I didn't know, but there are a number of award-winning wineries in Albuquerque.
Corrales Winery
offers free tastings and tours where you can sample its winning Muscat Canelli dessert wine or its gold medal Cabernet Sauvignon.
Anasazi Fields Winery
is known for creating table wines crafted from fruits and berries other than grapes, producing plum wine, apricot wine, peach wine and blackberry wine--yum! You can also visit
Casa Rondena Winery
or
Gruet Winery
, two other amazing options to please the palate. I will definitely be hitting all four!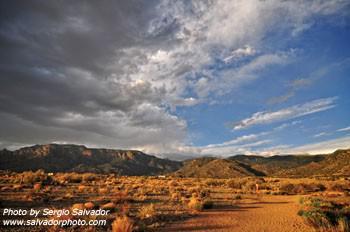 Source: nmmagazine.com via New Mexico on Pinterest
As you can see, Albuquerque certainly has a lot to offer. And with cheapr travel prices, there really is no reason not to check it out. (And if I had extra days off and a free weekend coming up, you know I would be booking my flight. But unfortunately, my life is a little too hectic right now. So if the prices are still good in a few months, I might have to look into a trip to Albuquerque.)