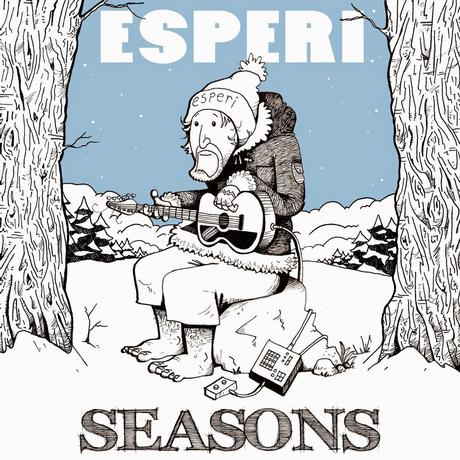 As I was listening to Esperi's Seasons for the first time, something struck me like a tonne of bricks as my foot was tapping along to Four Arms.  This sounds a lot like Stapleton, to which I will expect you to say, "Uh… who are Stapleton?" and I'll throw my arms up in the air and storm off muttering, "Who? Who is Stapleton?! Why I oughta…".
To be honest, it's not surprising if you don't know who Stapleton are - they never quite broke into the mainstream despite their wonderful shimmery guitar pop songs.  They were the first support band my friend and I fell in love with - that band you go to see headliners for just to catch a glimpse of their support slot.  It is high praise from me indeed to say that Esperi sound like Stapleton who sadly stopped making music in 2008.
Esperi's Seasons has a DIY sound that doesn't encroach on being too rag tag, instead it has a lived-in sound.  There are little bits and pieces of found-sounds peppered throughout the album, like the table top spun ring that opens It's A Wonderful Life before a stereo-rolling guitar line spins around the melody.  The dynamic between the vocals that sit high in the mix, the skimming guitar, and the backdrop of clicks and whirrs that feature intrigue and showcase a true inventive nature that is fully realised on the album.
The album is one of those Scottish albums that exudes the charm and emotion of an album made to be loved, and the style of the album's instrumentation lends itself to that feeling well, with a cohesive nostalgic thread running through each track.  Every melody resolves wonderfully and the experimentation with reversed notes, like the opening of Hide, a middle album highlight, is a standout example of the albums power.  "How do I... how do I escape from here?" is a dark lyric buried in a driving beat and electronic inflected track.
I can say I was very impressed with the album's sound and the craft on display in Seasons and the album burrowed its way into my heart with regular rotation.  You'll be rewarded should you let it do the same to you. Highly recommended.
- Mark Shields
Esperi - Seasons is out now and is available on CD and download via Bandcamp.