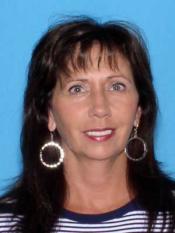 Bonnie Cahalane (Knox) Wyatt
A central Alabama woman remains in the Chilton County Jail from the fallout of a divorce case that appears to have been handled in an irregular fashion.
Bonnie Cahalane (Knox) Wyatt, 46, of Clanton, 
has been incarcerated on a contempt-of-court charge
since July 26. That means Ms. Wyatt has been in jail for more than eight weeks from her efforts to end a marriage where the parties lived together as husband and wife for less than a year.
A hearing was scheduled yesterday on a motion to set aside the contempt order. But the most recent inmate list at the Chilton County Jail's Web site (posted at 7:50 a.m. on 9/25/12) still includes Ms. Wyatt.
On a related subject, Ms. Wyatt appears on a Web page titled "Autauga County's Most Wanted Worthless Check Writers." Autauga County District Attorney Randall V. Houston sponsors the page, and it states that Ms. Wyatt is wanted for writing one bad check in the amount of $3,048.23.
A check of state court records several days ago showed no bad-check charge has been brought against Ms. Wyatt. The official charge in such cases usually is "negotiating a worthless negotiable instrument," under Code of Alabama 13A-9-13.1
Why is Bonnie Wyatt's picture splattered all over a Web page for writing one bad check when we can find that no such charge against her in court records? Is it the usual practice in Autauga County to prosecute someone for writing one bad check? If so, does the county have a jail/courthouse complex the size of Bryant-Denny Stadium?
Under Code of Alabama 12-17-224, a DA can establish a "worthless check unit," which requires a holder of a worthless instrument to file a complaint with the unit. That means someone filed a complaint against Bonnie Wyatt for writing one bad check, in a pretty substantial sum. The obvious question: Who was it, and did he or she give Ms. Wyatt a chance to correct the problem?
Those are just a few of many questions surrounding the Bonnie Wyatt story. For now, here is the biggest question: How does a woman wind up in jail for more than eight weeks after filing for divorce from a man she only lived with for roughly 10 months?
The simple answer is found in the divorce decree for a case styled
Bonnie Sue Wyatt v. Harold Jay Wyatt
. (See document at the end of this post.) The decree, actually titled as a Final Order of Divorce, states that Ms. Wyatt was to pay Mr. Wyatt $165,000 on or before June 7, 2011. Mr. Wyatt then was to satisfy the debt on the marital residence and convey his interest to Ms. Wyatt.
Ms. Wyatt sought to have the order amended before trial judge Sibley Reynolds, stating that misrepresentations were made in settlement negotiation, and also tried to appeal the order to a higher court. Both of those efforts failed, and when she did not pay the $165,000, Reynolds issued a warrant for her arrest.
How did Bonnie Wyatt come to owe her ex husband so much money in the aftermath of a brief marriage? How did one party wind up in jail over a divorce case that, on its face, should have been quick and simple?
I contacted Harold Wyatt recently in an effort to answer those questions. Mr. Wyatt clearly was unhappy with some of his wife's actions during the course of their marriage, but he did not come across as an unreasonable person. He initially said that I needed to speak with his lawyer, but he wound up talking rather freely about issues in the marriage. Mr. Wyatt said he had sunk a lot of money into the marital residence, and that left him in a strapped financial condition after the divorce.
In my review of the court file, I did not find documentation--invoices, canceled checks, etc.--regarding funds he allegedly spent on the home. In our conversation, Mr. Wyatt made reference to about 40 pages of material he had produced in discovery. Materials from discovery do not always show up in court files,  so perhaps the documentation exists, even though I haven't seen it.
This, however, clearly is troubling about the court file: The "settlement agreement" in
Wyatt v. Wyatt
consists of a one-page, handwritten document that came out of mediation and looks like something a third grader might produce. (See document at the end of this post.) Signatures are affixed, but I see no sign that the document was notarized or made official in any way.
Has Bonnie Wyatt been in jail for more than eight weeks based on the scribbled document you see below?
Here is perhaps the bigger question about
Wyatt v. Wyatt
? Why was Harold Wyatt in a position where he felt the need to sink substantial money into the home that Bonnie Wyatt owned?
Our research on that question is ongoing?
Wyatt Divorce Decree
Wyatt Divorce Settlement