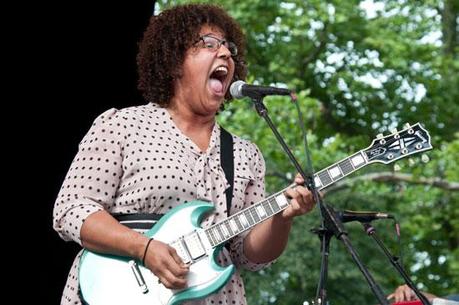 While many of you were swooning over Beck and Fiona Apple at the Governors Ball, some of us were lucky enough to catch Alabama Shakes, Diamond Rugs, and Robert Ellis in one of the better Summerstage shows this year. It came as no surprise that the free show was filled to capacity.
One word comes to mind when hearing Alabama Shakes (@alabama_shakes) – genuine. When lead singer Brittney Howard performs, I see a legend in the making. At 23, Ms. Howard has the voice and soul of someone three times her age. Plus, she plays a mean guitar. The rest of the Shakes are no slouches either, but they give Ms. Howard, the band's not-so-secret weapon, plenty of room to shine.
Diamond Rugs (@diamond_rugs), which includes members of Deer Tick, The Black Lips, Los Lobos, Six Finger Satellite, and Dead Confederate, sounds like a bunch of good friends playing music and having a good time. Compared to the average Deer Tick show, the performance was kind of laid back. I was told by singer/guitarist Ian Saint Pe that they wanted to play louder, but were stymied by Summerstage personnel. I'm not sure it would have made too much of a difference.
Houston's own Robert Ellis (@robertellis_) (also 23) opened the show with his blend of bluegrass, country, and folk which complemented the headliners, very well.