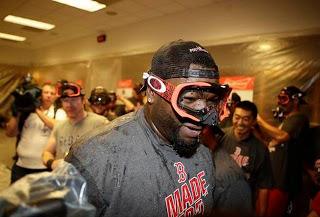 As the top of the ninth ended at Yankee Stadium last night, the Blue Jays had lost to the Baltimore Orioles in Toronto, 3-2, so that made the Red Sox the AL East champions for the second time in four years.
Hyun Soo Kim hit a pinch-hit two-run homer in the top of the ninth at Toronto to give the Birds a much-needed win for them. And what happened in the next few minutes in New York, the Sox owe Kim a debt of thanks.
Craig Kimbrel came on for the save with a 3-0 lead and had nothing. Gave up a hit, three walks and was gone. Kimbrel has been very good since returning from knee surgery on August 1st and it was his first bad outing since.
Joe Kelly came on and got two quick outs, but gave up a grand slam to Mark Teixeira and it was over. New York was celebrating like they had just won the division, but they'll be playing golf shortly.
The Sox players entered the locker room depressed after losing a game like this, but manager John Farrell set the troops straight with a short talk how they had just won the division after such a long grind and how one inning should take nothing away from that. He was absolutely right, and from the there the party started.
Farrell became the first Red Sox manager to win two division titles since Walpole Joe Morgan won in 1988 and 1990.
Winning a playoff spot on a night you've lost is nothing new in baseball. I can't ever recall a team celebrating after a team beat them in the ninth on a grand slam. But Farrell is absolutely correct. The Sox went through a lot in 2016, and pulled away this month with the amazing 11-game winning streak. They deserved to celebrate last night.
I went on social media after the game and could not believe how many Red Sox fans were depressed over the loss, some even writing about how Kimbrel should be run out of town over this loss. Hey people, last night's loss will be quickly forgotten. Can you tell me who the Sox beat and what were the scores of the playoff clinchers of 2004, 2007 or 2013? Me neither.
The important thing is that the Sox have had a fabulous September, going 18-7, one of the best September's in their history. There is so much to love about this team, and to a man they want to win it all for the retiring David Ortiz.
Forget last night's loss. It's ancient history. Now it's time to fully look forward to next week's playoffs, which begin on Tuesday with the Wild Card games. Who the Sox will play in the ALDS is still to be determined. And there's still plenty to play for this week, as the AL seedings are still up in the air (Sox trail AL leader Texas by two games).
Enjoy the AL East title, folks. But still much work to be done.
And thanks, Hyun Soo Kim.