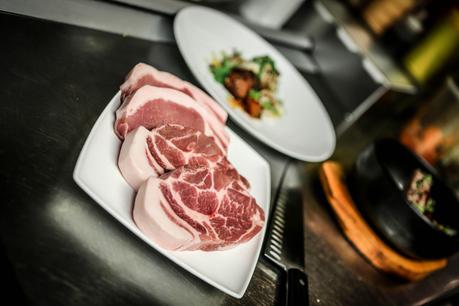 (Photo Credit: Wingtat Game Bird Packers Inc.)
In Japan, there's beef… and then there's Kobe beef.
There's also pork… and then there's Kurobuta (the black hog), a premium pork renowned for its tenderness, juiciness and high marbling. As with any high-end product, there's a tight squeeze on Kurobuta supply. Recognizing the shortcoming, Wingtat Game Bird Packers Inc. has adopted the Japanese methodology and started raising Akaburo-Buta in the Alberta, Canada.
To celebrate the launch of Akakuro-Buta, three Vancouver chefs were invited to create brand new dishes featuring this incredible ingredient:
Chef Chikayoshi Kittaka - Kingyo Izakaya
Chef Eric Lee - Damso Modern Korean Cuisine
Chef Jefferson Alvarez - Secret Location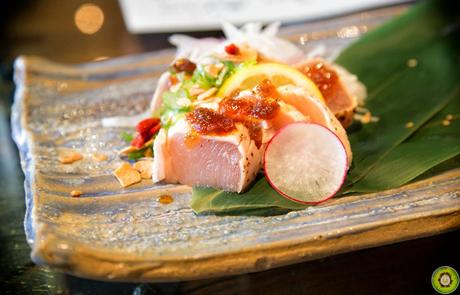 Before tasting Kingyo's Akakuro-Buta dish, we were served a couple of appetizers. Tuna Tataki has always been a favourite of mine. Fresh and simple, the soft meatiness of the Canadian Albacore tuna plus the Ponzu jelly was a winning combination.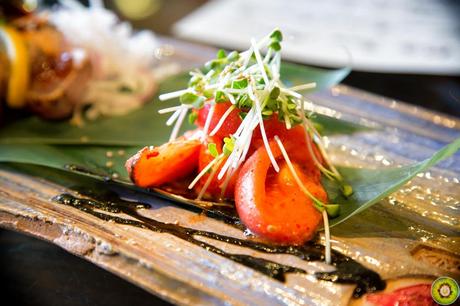 The House-marinated Kimchi Tomato was another awesome dish. It was served with Chinese chives and seaweed sauce. Subtle sweet- and savouriness, ultra refreshing.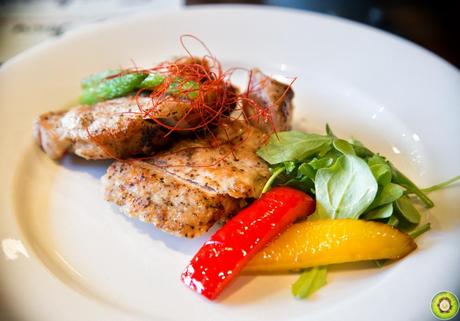 Kingyo's pork dish was the Tonteki – a Japanese-style Pork Steak. As with the appetizers, Chef Chikayoshi Kittaka embraced a minimalistic approach. Salt, onion, garlic and pepper: that's all he used to season the boneless loin, a leaner cut compared to the collar butt. Before grilling, Chef also coated the pan with the pork's own fat, which dabbed the protein with some sweetness. These steps taken allowed the pork to be the star of the plate.
The pork was also served with a sauce made of grated onion, garlic, Worchestershire, oyster sauce, soy sauce and miring.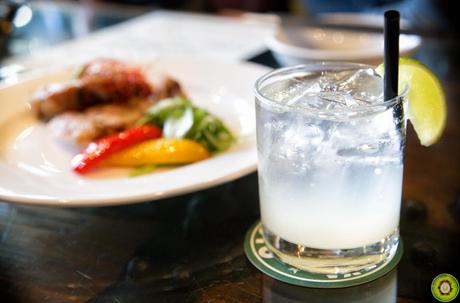 To wash everything down, Kingyo topped our glasses with their Famous Homemade Gingerale. It's made from scratch with fresh ginger! I'd go back just for that drink… it's really refreshing and not overly sweet – nothing like the icky canned stuff.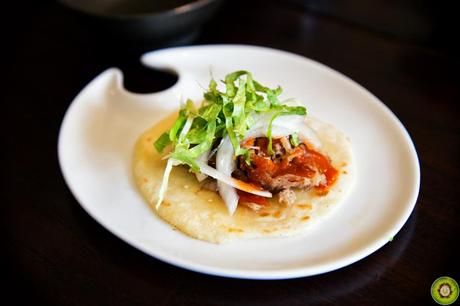 Conveniently located next door, Damso was our next stop on the porky tour. I launched into the meal with a Beef Taco to start. The "taco" was a doughy wrap that was very similar to those used in Peking Duck dishes. The soft beef contrasted the crisp lettuce and onions, and tasted great with the spicy pepper paste sauce.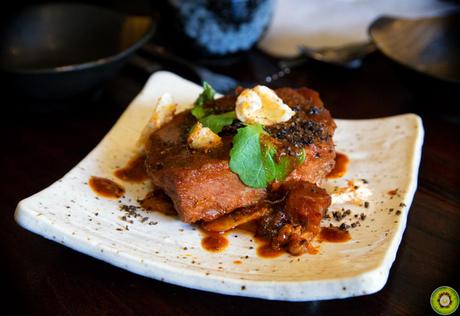 The first pork dish was the Kimchi Jim, which was made with the pork loin. It was cooked for 24 hours at 150F, and tasted a lot like BBQ.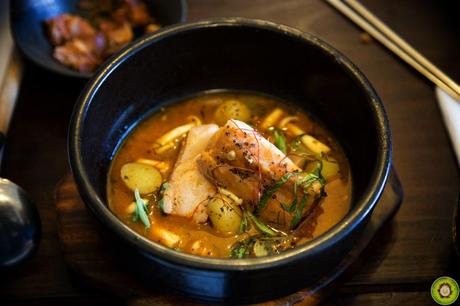 The second dish was the Gamja-tang – collar butt with potatoes, mushrooms and a broth poured table-side. Due to its higher marbling, the pork was really moist and tender. It also tasted great with the sauce, which had a prominent fermented bean flavour.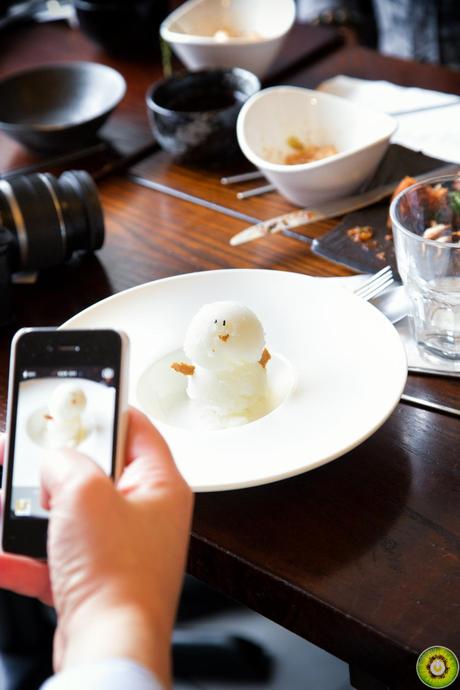 Finally, we had the cutest dessert – Yuzu Sorbet Snowman! I almost didn't want to eat it because it was so adorable… but it was too refreshing and delicious to resist.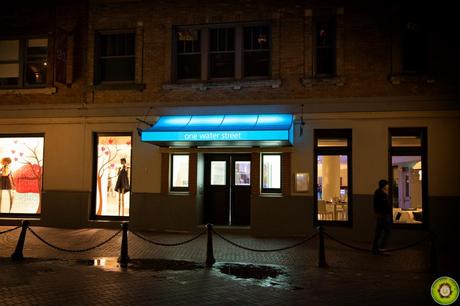 Our final stop was at Secret Location. Yes, that was the actual name of the restaurant. It was unique in that it did not sport a banner with its name and it had a built-in boutique.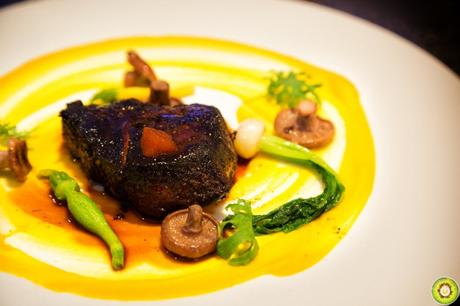 The dish created by Chef Jefferson Alvarez was the Burnt Apple Crusted Akakuro-Buta Collar Butt. The pork was marinated in burnt apple (an apple baked with cinnamon until dark), star anise, thyme, brown sugar, salt and more cinnamon. On the periphery, there were mushrooms, squash puree and greens.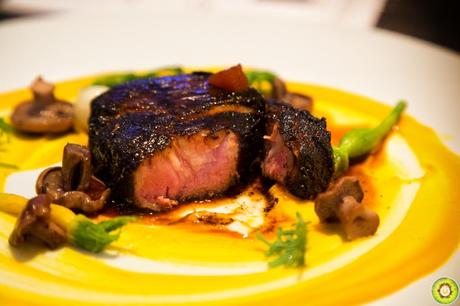 The pork was cooked until slightly pink. I'm always hesitant when eating pork that's any colour other than white (i.e. cooked 100%), but just one byte lured me into polishing off the entire plate. Even though it was really fatty, it didn't taste oily at all. Moreover, the flavours of the interesting marinade paired very extremely well with the naturally sweet puree.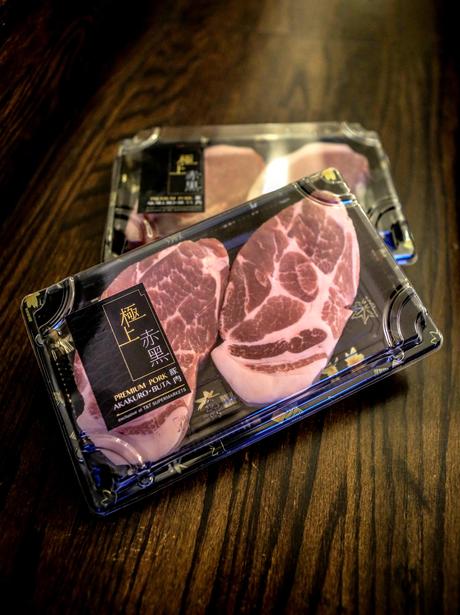 (Photo Credit: Wingtat Game Bird Packers Inc.)
Akakuro-Buta is now available in all T&T Supermarkets!
Disclaimer: my meals were complementary, but all views expressed are my own.
---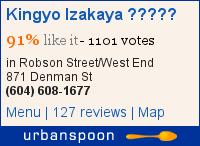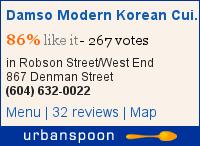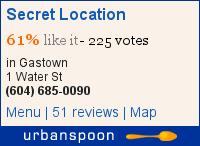 Google+

Curtis Ng