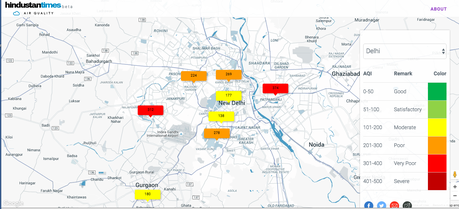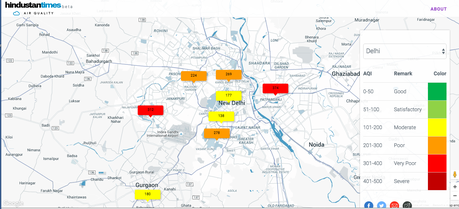 Here is a story that comes close to home for me. The Hindustantimes has been and continues to be a client for Garcia Media—presently working on a redesign of its sister publication, the financial daily, Mint, as it converts from Berliner to broadsheet format.
In addition, my former Columbia Journalism student Anand Katakam, News Apps team head, is very involved with this new project that will pull in data from government stations for a map that will indicate levels of air quality for India.
This comes at a particularly opportune time, since a recent report has labeled Delhi as the "world's most polluted city," with recorded air pollution levels three times higher than those in Beijing. In Anand's own words:
We've had this project in the works since late September. 

However, it really picked up in January when pollution was at its worst in Delhi. We charted a product man and we set some deadlines. My colleague, Piyush Aggarwal, has put in a lot of effort into building the product over the last six months which includes calibrating our sensors and making sure we're able to give our users accurate real-time information. 
The Hindustantimes last month launched a beta version of a real time air quality map.  It allows people to know what kind of air they are breathing where they live and work.
The map is interactive on mobile and responsive for different size screens.
Our primary objective was to build a platform where people can access pollution data without being intimidated by a clunky interface. 
What has been the reaction so far?
The audience reaction has been relatively good. Since we're a Delhi based paper, our local readers find it useful. It was very much based on the idea of "news you can use". 

We've seen about 60% of our traffic come from mobile, which has a icons that pop up depending on the quality of air. The desktop version gives you a granular look at the data. 

We're always seeking feedback to make the map better. We are trying to make it more accessible. For the most part it is, but we are going to add new components beyond air pollution.
Anand tells me that the Hindustantimes team on this air quality project  has  been approached by multiple organizations doing similar work such as India Spend, Datameet (an open data community based out Bangalore) and India Open Data.  "It's still early and we are hoping we can collaborate with different people to spread the net wider," Anand added.

http://www.niemanlab.org/2016/05/the-hindustan-times-is-working-to-build-the-definitive-online-source-of-real-time-air-quality-in-all-of-india/
TheMarioBlog post # 2436
Please enable JavaScript to view the
comments powered by Disqus.
comments powered by

Disqus