I'm clearing the haze away from my recent vacation and getting back into the swing of things.  I mentioned last week that I was heading to the lake – Big Bear Lake in Southern California.
Big Bear is known for it's ski resorts and lakefront homes, but I found something unexpected there: quality antique shopping.  Most touristy towns offer quaint looking 'antique' shops that are more like garage sales than anything else.  But I was impressed by several roadside venues that had some pretty nifty stuff.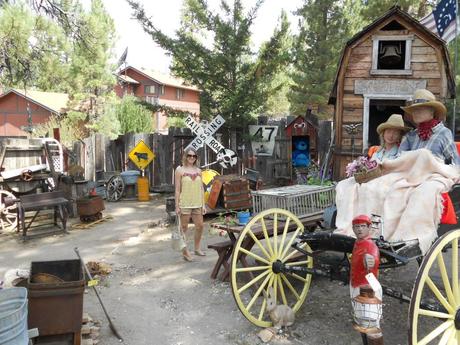 I picked up a couple of chairs (that I will post in another segment) and got inspired to create some new container gardens using found objects like these old railroad carts.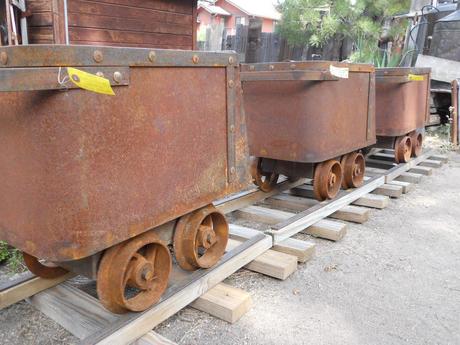 Or this old bathtub.  Wouldn't it look great to have some spindly plants growing out of that tear in the side?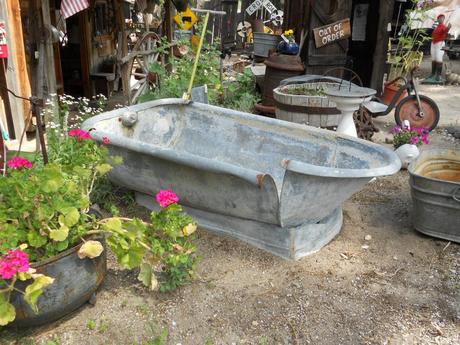 Though a tourist town, the locals seem to be more interested in keeping life simple than catering to visitors every whim.  This was evident by the tone our Paddlewheel boat operator took when the "adorable" children aboard tried to use the upper deck as their personal bunk bed, as well as hubs getting yelled at when going to the wrong side of the chair lift a second time.
"Hey buddy, get it together," he said.  "That's strike 2.  One more and you're walking down the mountain." (I must also mention that David was all bandaged up from a knee injury and could hardly walk.  This guy was hilarious.)
I also loved this sign: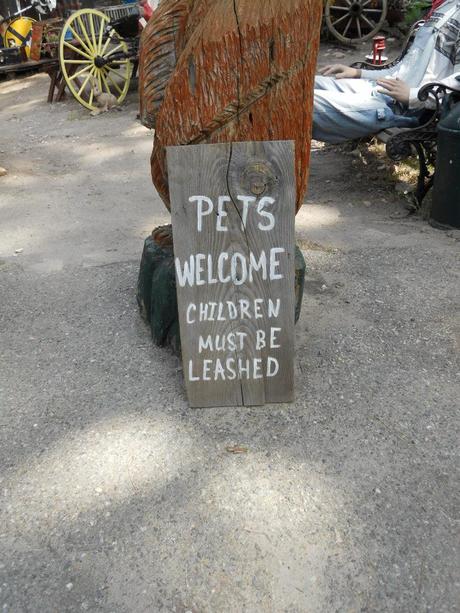 All in all, a great place to get away when you're in the mood for something rustic. Beautiful mountains, perfect size lake with plenty to do.  One of the best meals I've had in a while was as Jasper's Smokehouse - I rarely eat bbq since I prefer my pigs and cows living.  But this place had white meat turkey and vegetarian bbq options and they were mighty good.  Our meal came complete with a jolly (chatty) proprietor who gave us the lowdown on Big Bear.  His claim to fame is the regular visits by George Clooney who has an estate in the area.
Stay tuned for my cute flea market finds later in the week.  Happy Tuesday.